STEVE LACY JAPAN TOUR
October 2000
Four days at the EGG FARM, Saitama
One evening at PLAN B, Tokyo
Four days at the Egg Farm:
One evening at PLAN B, Tokyo:
Steve Lacy's musical collaborations are many, as evidenced by his prolific recorded output of some 300 albums. But an important aspect of his musical interest, retaining still a kind of mysterious blur, resides in his affinities and collaborations with Japanese artists, which started some 25 years ago.
Organized by Aquirax Aida (critic, producer and poet, considered by Lacy as "The Diaghilev of Jazz"), the first Japan tour of June 1975 produced five of the rarest and most daring LPs in Lacy's vast discography:
Stalks

(07 June) in trio, first "encounter" with Masahiko Togashi, released on Denon YQ-7507-N

Solo at Mandara

(08 June), on Alm AL-5

Torments

(16 June), a solo concert in Kyoto, released on Morgue –01 (!)
The Wire (18 June), in sextet, first recording with Masahiko Satoh, on Denon YX-7553-ND, its title tune later adopted as the name of the progressive British music magazine
Distant Voices (24 June), in trio, first and only "date" with Yuji Takahashi, on Denon YX-7805-N.
Other noteworthy recordings followed over the years, sharing today the common trait of being quite difficult (if not simply impossible) to find.
Nevertheless, that first journey set the tone for other diverse collaborations with some of the most renowned Japanese artists, musicians and dancers alike. Since then, Steve Lacy has returned to Japan fairly regularly. His last visit, titled "Steve Lacy and Friends" (friends being: Eiichi Hayashi, Yosuke Yamashita, Masahiko Satoh, Masahiko Togashi, and Kazutoki Umezu) took place in the fall of 1995.
The current tour was a busy one. After a series of concerts with his own trio (Avenel / Betsch), Lacy went into a kind of "pastoral" retreat at the notorious Egg Farm for four days, before returning to Tokyo for a last show with a famous Butoh dancer…
But what is the Egg Farm? Well, it is just what the name says… It is a large egg-producing farm, "lost" in the countryside amidst rich agricultural fields some 80 miles North of Tokyo. The farmers / owners have always had a special love for a highly selective group of artists (musicians, dancers) and their respective talents. Thus they decided to build a music "loft" in their own home, named "Space Who", which opened on March 23rd, 1985. A few years later, the present, larger, 100-seat "Egg Farm Hall", was built (1992). Discreetly elegant, with wonderful acoustics, it has become the "home" of some favorite performers to play or dance for their favorite audiences.
The Egg Farm Hall is quite an unusual place in several aspects. Not just anyone will venture to Saitama, as going there necessitates a rather long train commute from Tokyo (over 2 hours), and a ten minute taxi ride from the Fukaya train station (when pre-arranged, the owners will pick-up and drop-off guests at the station). Definitely not easily accessible like an average music club downtown… Nor will just any artist be invited to perform at the Egg Farm… In this regard, unsurprisingly, the most "regular" Japanese musicians performing there have been and still are: Masahiko Togashi (percussions), Masahiko Satoh (piano), Haruna Miyake (piano) and Yuji Takahashi (piano). Non-Japanese "favorite" guests include Ned Rothenberg, John Zorn (both among the very first invitees in 1985), Fred van Hove, Steve Lacy (since 1986), Derek Bailey, Richard Teitelbaum, Barre Phillips, Leo Smith, Evan Parker (since 1990), Misha Mengelberg, Han Bennink, George Lewis, among few others. Pretty telling about the kind of music being played there…
Since its opening in 1985, Steve Lacy performed there seven times, notably: on 22 May 1986, a solo concert, issued on an extremely rare LP pressed at 100 copies only, Steve Lacy @ Space Who (no label, no number); in June 1989 with his famous (now defunct) sextet; and on 10 September 1995, another solo venue documented on the intimate double CD album Blues for Aida (Egg Farm / EF–004).
The four-day "Festival" was quite an event. The audiences were intimate, always religiously intensely attentive, varying between 30 to about 100 music lovers (including musicians, photographers, artists, music critics and writers), with about 20 hard-core "regulars", who attended every set.
The Hall design is very "Japanese", i.e. elegantly sober with simple architectural lines and warm wooden finish, a few sliding doors, its center stage cleverly featuring / hiding a large square glass opening which, when uncovered, offers visual contact with the natural surrounding greenery and subtly incites meditation and contemplative awareness. Indeed, like a church, the Hall seems to convey a feeling of deep spirituality to those who enter it. In this regard, a simple statement – rather revealing -- made by a serene, beautiful young Japanese lady residing not far from the Egg Farm, says it all. She stated: "This is my Temple"…
Four days at the EGG FARM, Saitama
First night: Duo Steve Lacy / Masahiko Togashi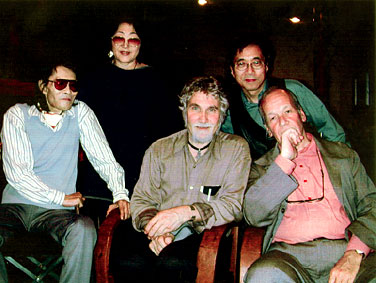 Masahiko Togashi, Gilles Laheurte, Steve Lacy (front)
Even before it started, the opening night Duo concert had special vibrations: not only was it under a full moon, it was also Friday the 13th (!), and it was an "anniversary" reunion of two long-time friends. Naturally, Lacy and Togashi are no strangers to each other's music. The several key albums: Spiritual Unity, Eternal Duo (Paddle Wheel, 1981), Voices (NEC Avenue, 1986, with Jean Jacques Avenel), Twilight (Nippon Crown, 1991), and Eternal Duo 95 (Take One Record", 1995), are evidence that their 25-year "partnership" is unquestionably one of the most spiritual of all "East / West" collaborations.
Before the first set started, the sounds of Mr. Togashi tuning his drums, revealing his utmost vigilance to the critical placement of all his cymbals / bells / gongs, etc, was like the privilege of a private solo concert, almost like voyeurism of an intimate creative "moment" in an artist's life. His set-up is a real work of art. For a few minutes, the precise placing of his two huge gongs became the object of intense attention with his assistant. Likewise, with no less than 12 various drums surrounding him (not tuned on a chromatic scale, but on different chords), and too many bells and cymbals to count, the perfect pitch of his small toms (Bb, Eb, others) obviously becomes all the more critical to achieve "his" very unique sound, immediately recognizable to those familiar with his music.
Listening to Togashi's music on CDs is often a magical trip in itself. Among personal favorites, his albums Song for myself, Rings (arguably the "ultimate" Togashi solo album, a real masterpiece!), Passing in the silence and Moment are nothing short of breathtaking. But seeing him actually arrive on stage and hearing him play "Live" is a profoundly vivid experience one cannot possibly ever forget. Pushed on his wheelchair inside the semi-circle shape formed by his many percussion instruments (paralyzed from the waist down, he cannot walk nor use his legs to play), he seems so fragile, so vulnerable. That impression is reinforced by the sight of an inescapably visible wide restraining velcro belt which provides him support up to his armpits and prevents him from falling off the chair, and which he must keep adjusting as he plays. Yet, the impression of weakness is deceiving, as his energy is extraordinarily strong. Once perfectly settled within his myriad instruments, his assistant places the two impressive gongs at an exact slight angle to his rear right and rear left, as if sealing the sash of a musical time capsule, not unlike an astronaut being locked up in a small spaceship. And then, another exploration of "space" in music is about to begin…
Togashi is a universe of colorful sounds, textured effects and richly mixed rhythms. His combined use of time, sound, and space is unique. So subtle, and yet so powerful at times, he is a true poet of the drums. His carefully constructed solos often sound like delicate and ethereal poems. Maybe that is the link with Lacy's own fascination and love for words and poetry, which brings them so close in their empathic duo performances.
Lacy and Togashi really know how to listen to each other, leaving ample room for self-expression, stimulating and challenging each other back and forth at the same time. Listening to their duo interplay, the notions of "multicolor" and of "communion" come to mind repeatedly. Their elegant timbral moods, surprising sonic contrasts, were consistently nothing short of awe-inspiring.
The tunes played were mostly familiar ones (from Lacy, Togashi and Monk) which, humorously and intentionally, included Friday the 13th... After a mesmerizing mournful Longing and a cleverly angular In the Pot, an unfamiliar new tune was played: it was Tina's tune, an homage to the memory of Tina Wrase (sopranino, soprano, bass clarinet on Lacy's Jam Opera "The Cry") who passed away at the end of September. Based on a simple but poignant pentatonic phrase, it conveys the pain of her struggle with death, Togashi's admirable play exclusively on the rims of his drums giving a sense of time clicking away in a losing battle.
Throughout the evening, there was a lot of poetic insightful interplay, but also moments of intense concentration listening to each other, with respective smart spontaneous responses. The soprano's descending chords of warped notes on Unbalanced, which made the theme itself sound very unbalanced indeed, led to a very syncopated phrasing on the drums, the sticks later gliding on the toms like gentle caresses with a delicate rebounding fade, as if to smooth out all the tension created. During Blues for Aida, Lacy walked in hiding to play behind Togashi's large gong, using its deeply warm mass of brass for enormous colorful resonance, while the drummer's insistent counterpoint on mallets pounded on low tone / bass drums with dramatically profound darkness. Magnificent. Later, during Retreat (Lacy's soprano solo sounding particularly Japanese that night!), Togashi's remarkable handling of his various strands of tiny bells made it sound like he was letting each tinkle drop like crystal pebbles on the ground. Sublime. The last pieces, Blinks and The Duck, are always great pieces to go crazy: both musicians did let go, obviously having fun playing together, ending the evening in a penetrating sonic bash.
Four days at the EGG FARM, Saitama
Second night: Duo Steve Lacy / Haruna Miyake
Haruna Miyake is clearly a classically trained pianist, as her deep special fondness for the music of Bach transpires quite openly in her playing, even in her most avant-garde abstract improvisations. A good "baptism" to her adventurous music is the duo album Short Takes with French Bassist Joelle Léandre (on Egg Farm / EF-005), where her composition style is well described in a few short words: "vivid and intellectual, free from genre classification". (Incidentally, the brilliant liner notes are by… Steve Lacy himself: like his solos, where each note is essential, the text of his notes contain not one word too many!).
In contrast with the other musicians invited at the four-day "festival", Steve Lacy and Haruna Miyake had never played together before. This was their maiden concert as a duo, and every one was eager to hear their first encounter, which appeared very "promising". Yet, it ended up with a mixed feeling of a great potential which culminated in the last moments of the first set, where the music really took off, and regretfully turned in some uneasy disappointment as the second set progressed.
Maybe expectations were too high? Maybe the musicians did not have enough time (if any at all) to rehearse "something" together? This could actually be quite a plausible explanation, as, until the last moment, it was uncertain that she would even show-up, recovering from a recent automobile accident. So, maybe the pianist was tired after an energetic first set, feeling symptoms of physical pain, which had taken a heavy toll on her energy? One will never know, but the second half of the venue can reasonably be defined as a difficult partnership.
It is too bad. The first set had clearly been a slow crescendo of intense cumulative inventions by both artists. Featured in solo first, Ms. Miyake played for about 10 minutes an intriguing sequence of unknown compositions (it sounded like seven consecutive pieces) going from very classical 18th century music, to very fast abstract phrases, evolving into a very lento kind of classical piece (with definite overtones of Bach!). She then glided all so subtly into three even slower pieces, very introspective and quite intellectual, to end her solo performance in a gentle whisper. Quite beautiful, if a bit short…
Lacy then played solo two of his compositions: a new tune (title unfortunately unidentified…) and Prayer, played entirely inside the piano with his foot on the right pedal. The wide reverberation of sound on the strings of the magnificent Steinway produced intensely rich and profound polyphonic echo (almost like an organ in a church), all the more emotionally moving and reinforcing the religious meaning of the tune…
The duo improvisation started with a very slow abstract introduction on piano, onto which Lacy soon "jumped" to stir things up, but the music seemed to keep floating aimlessly for a while. As Lacy sat out for a minute or so, Miyake went into very quiet classical lines, which led to a brief introspective duo interplay. Then, as she sat out quietly, Lacy let things loose and brilliantly soloed with wide jumps, crude harmonics and wild intervals… An impressive technical and sonic feast! When the duo resumed, a few single long notes served as minimal accompaniment to the weight of improvisation carried by Lacy. Quietly, though, like a magic potion slowly pushed to a boil, the exchange started to explode into a wild and intense interplay discourse, as if the result of some sudden high level discovery of each other. It is at that time that the music really took off all the way up in the sky, and enthusiastically surprised all those present. Creative electricity flowed in the Hall, challenging and fulfilling. Unfortunately, the effects of the magic potion were all too short lived…
After an announcement by the producer, Mrs. Saito Kazuko (probably relating to the condition of Ms. Miyake?), the second set started with Lacy solo. He played parts of Tao, walking about, journeying along "The Way", blowing against / inside Togashi's empty drum set, which had been stored in the right corner of the stage. Remarkably rich sonorities picked up from the many cymbals, toms, bass drums and bells mystically enhanced the sounds coming out of his soprano.
As the duo resumed, Lacy exposed the theme of Revenue, whose chord structure usually works admirably well for a piano counterpoint, and offers a lot of improvisational possibilities. But nothing happened. For what seemed like several minutes, the pianist did not attempt to play a single note. Lacy kept on glancing at her with one eye half-open, probably wondering when she would eventually join him… A few sporadic and widely spaced chords appeared. Lacy tried and tried to re-launch things, but there was barely any response to his efforts. It was a struggle, despite a creative atonal kind of improvisation, with a few striking phrases. Their individual playing was fine and catchy, but where was the communion? Where was the duo interplay?
Probably, neither musician had had enough time to learn enough about each other's possible creative responses, since this was their very first performance together. An hour or so of discussion just before the concert was certainly not sufficient to properly understand each other's musical sphere and create the needed chemistry. So, maybe next time, a real interplay will come out… All fans of both artists will look forward to such event, for sure.