Four days at the EGG FARM, Saitama
Third day - matinee: Steve Lacy solo
If it was necessary to remind anyone of the importance of Lacy's roots and indebtedness to the Tradition, modeling it into a truly "Lacyan" vocabulary, there it is. The two sets of his solo performance were simply stunning. The first set, announced by Lacy as Ten of Dukes, turned into a magnificent demonstration of Lacy's knowledge of classical jazz and daring improvisational palette. Each piece had a very different flavor, yet keeping the spirit of the original composition. In a Mellotone was just that, mellow and gracefully flowing. The Mooche was dismantled, "décortiqué", keeping the burning fire of the Sidney Bechet version, which inspired Lacy to pick-up the soprano in the first place! Probably no one has heard a Prelude To A Kiss like this one before: a majestically controlled warp (up and down) of five notes (!) without ever moving a finger, all in the breath and lip control of the reed… Amazing. Azure was played entirely– theme and solo – very quietly, with an impressively controlled blur and flutter of the tongue and throat. Astonishing. In contrast, Cottontail swung in the pure tradition, while Koko was splendidly dissonant and crazy, Lacy blowing in reverse from the soprano bell to extract some weird "African" sounds and other sonic inventions. The concluding piece, To the Bitter was paradoxically sweet like a ripe fruit, at time played with the left hand only (all notes being in the upper register of the horn) a much welcome relief from the preceding craze, and a smart way to smoothly end an outstanding set.
The second set featured Lacy's own material only. Art, based on a poem by Herman Melville, had some Japanese scale connotations, which the audience could easily relate to. Despite the analogy to Monk's famous tune, Round about Midnite is in fact a recent Lacy composition bearing the same name, but a very different tune altogether. Wave Lover, also fairly recent, was all transparent, very delicate with its halftone blowing, like a whisper, which reminisced some of Tina's Tune chords and emotions. The last piece, Traces, with its powerful words from 17th century philosopher / poet Ryokan,
"We meet only to part,
Coming and going like white clouds,
Leaving traces so faint
Hardly a soul notices",
appropriately gave a concluding Japanese flavor to Lacy's admirable and masterful solo performance.
Four days at the EGG FARM, Saitama
Third day - evening: Trio Steve Lacy / Masahiko Satoh / Masahiko Togashi
The evening venue with prolific pianist Masahiko Satoh (best and most-in-demand composer / arranger in Japan) was the most attended of all sessions, as the Egg Farm Hall was practically full to its maximum capacity. A much awaited reunion, since their stunning album The Wire, recorded 25 years ago, and their last performance together during the 1995 Tour "Steve Lacy and friends", mentioned earlier. Wasting no time, as soon as all three musicians had come onto the stage, Satoh almost nonchalantly started a wonderfully monkish Epistrophy, leaving the floor temporarily to a typical quirky solo by Lacy, then going into his own whimsy exploration and passing the relay to Togashi's colorful beats. The theme's reprise had some Merenge rhythmic flavor, unusual for sure, but in fact quite befitting. After one tune only, it was clear that this was a well–oiled trio, needing no time to get back into their common musical world despite years of separation, demonstrating with disarming simplicity their respective instrumental mastery and their profound understanding of each other.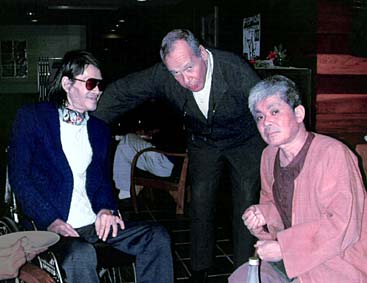 Masahiko Togashi, Steve Lacy, Yuji Takahashi - photo © G.L.
After such an authoritative version of Monk's famous tune, Reflections was almost "too" classic, but served to show the ease with which all three can play any material. Tina's Tune was very beautifully and somberly rendered. Satoh took a first introspective solo, leaving Togashi to explore alone some dark sounds on his low pitched drums; then took a second solo, virtuosic, rich, brilliant with creative dissonance and clever jumps, which conveyed the sense of disarray and loss of finding an answer to a tragic death. Lacy's solo was very melancholic, abstract yet lyrical, almost obsessive, downright incantatory. A profoundly moving tribute to an artist whose untimely death left its mark on all those who knew her thirst for life.
As requested by Lacy, Name was played with "no tempo!" And the absence of any restraining tempo opened a large unchartered musical universe, which begged to be filled. Space. Time. The long sustained piano notes of the introduction made way to pounding drums and bells, which inspired Lacy to play – incredibly as it may sound -- with a kind of Coltranesque intensity. This is where the three musicians are at best. Free. Daring. Flying and floating everywhere, yet always coherent with themselves and with each other. What a mastery of colorful sounds! What a perfect sense of space and timing! What a feeling of craziness and poetry mixed together!
Time flies fast when one is having a good time and the first set was over way too soon… However, the second set was just as magical and maybe even more satisfying. Both Flakes and In The Pot flowed smoothly, very abstractly at times, with contrasting chords which helped break the apparent insouciance of the improvisations. Deadline was probably the highlight of the entire evening. Never have the left hand piano chords of the theme been played so perfectly, a challenge that Lacy himself openly talked about after the show, and which Satoh himself recognized as being some of the most difficult left-hand chords to play. Quite a statement… These perfectly played chords obviously pleased and stimulated Lacy in his sonic solo "envolées", brilliantly colored.
Togashi played two solos, one right after the theme, the second after Satoh's solo. He created a background flutter with his brushes, which slowly pushed Satoh into an accelerated deconstruction of the theme, not unlike a frustrated child who would start breaking apart pieces of a Lego construction game, yet taking great care to sort the pieces by color and shapes. Splendid team work. Blinks, as could be expected, was an explosion of wild twists, slurs, warped and contrasting paces, a fast but warm counterpoint being provided by Togashi's pounding mallets. The encore Blues for Aida had once again a very appropriate traditional Japanese flavor, another respectful tribute to Aquirax Aida.
The mood was a joyful one after the concert, when artists and audience mixed together, to talk and enjoy the food prepared by the Hosts. A joking, quite extraverted Satoh was exuberant, showing openly his real "bon vivant" personality. Togashi's quiet radiance indicated that he too was pleased. Smiles were on everyone's face, and Lacy openly expressed his deep appreciation of the trio performance, commending both of his long-time partners for their fantastic, stimulating contributions. Indeed, it was an evening of magnificent music by magnificently creative artists. But it was also a long hard working day for Lacy, who played so intensely for over four hours in less than seven hours… A difficult technical challenge with a severe toll on the lips! Unquestionably satisfied with the performance, he was also very happy that the day was over, and the last sip of Sake must have tasted divine…
Four days at the EGG FARM, Saitama
Fourth day - evening: Trio Steve Lacy / Yuji Takahashi / Masahiko Togashi
Steve Lacy and Yuji Takahashi had not played again together since the beautiful and eerie Distant Voices album recorded in 1975… In contrast to Mr. Satoh, Mr. Takahashi is much more reserved a person, with a definite restraint and distance that grazes shyness. And so, the reunion was a bit of a challenge, if not a curiosity. What would happen some twenty-five years after a short incidental collaboration? Knowing Takahashi's musical affinities (interpreter of Bach, Satie, and especially John Cage's music in the 70's and 80's), currently more involved with compositions for Japanese traditional instruments (most recent album Finger light, produced by John Zorn, on Tzadik / TZ 7010), one could not but wonder what to expect of such reunion?
One thing was certain: there would be no Duke Ellington, no Monk tunes, no traditional jazz songs, not even some of Lacy's most unusual compositions in the performance. It was most likely to be totally free. And it was! The program was very cleverly arranged, with Takahashi starting alone, playing a very minimalist and abstract solo, all about space and silence. Short phrases; isolated notes; sudden pauses of unpredictable length; different combined patterns transformed; technical virtuosity expressed in super fast passages, or in slow majestic chords/phrases played with both hands/arms crossing, ascending / descending the keyboard simultaneously. Very impressive "contemporary" piano playing!
A duo with Togashi ensued, very slow, very ethereal, a kind of Zen-like abstract drumming which worked extremely well with the delicately soft piano playing. Slowly, the pace became more intense, more pressing, Takahashi playing with one hand only… This definitely was one of the many expressions of Japanese philosophy metamorphosed into music...
The third and fourth pieces were played in trio. Togashi started with a low but insistent pounding of his drums, which intensified into powerful sounds reminiscent of exploding charges at a fireworks show. His pounding became progressively delicate again, while Lacy played his soprano inside the upper part of the piano, turning his back to the audience, Togashi switching to the very airy tinkle of his numerous tiny bells. The playing of all three became more and more delicate, and the music dissipated very slowly into silence, as if carried away weightlessly by the wind. In the second improvisation, Lacy jumped to the soprano's "hyperspace", exploring various permutations of a few of his sonic trademarks, which triggered a wild interplay with Togashi while Takahashi kept on providing a simple set of chords, transforming them into feathery phrases which brought thoughts of a butterfly fluttering gently from flower to flower. A very beautiful moment! After a brief return to duo (Takahashi/Togashi), Lacy went again into high harmonics and of over-blowing of simple phases, which took the music into an intense chant of weird scales, sustained by an renewed intensified robust drum pounding, which ended the piece, and the set. A splendid "impromptu" exploration of sounds!
The second set first featured Lacy in solo, with a totally "free", authoritative sonic improvisation blown inside the piano. Takahashi joined him for another duo exploration of space, all very abstract still, but blazingly colorful. The set ended with the trio playing two more untitled pieces, the percussionist making clever use of his leather covered maracas on anything he had the genial inspiration to hit, and of his special mallets on any surface he could get unusual timbral effects from. During these moments, he seemed to be in a kind of mystic trance. The enthused crowd insisted for an encore, in which Lacy's introduction of particularly difficult warped notes patterns triggered a slow crescendo of frenzy which found its final respite not unlike heavy rain and strong winds in a fading storm.
Suddenly, the Festival was over. It was strange. A kind of postpartum syndrome seemed to dawn on all present. Four days had gone by. Ten one-hour sets had been played. A lot of music, a lot of energy, characterized by dazzling colors, an uncanny sense of space, impregnated with profound spirituality. Memories were fresh, so vividly intense, yet already belonging to the past... Ryokan's powerful words of Traces flashed back... It was indeed the time to part.
Reflecting upon Lacy's performance as main guest of the four-day event, the demonstration of his adaptability and flexibility was nothing short of extraordinary. His inventive genius clearly transpired in all the tunes played, whether traditional Ellingtonian jazz, Monkish turns, "Lacyan" twists, or in totally "avant-garde" free improvisations. His well-known quirky and witty playing flowed with grace, inspiration, energy, and produced ever cleverly expressed inventions. Actually, all the musicians were greatly inspired, despite the disappointing lack of interplay noted on the second evening (which had its own special attenuating circumstances). Lacy was also fortunate to have a good reed for four full consecutive days, which let him fly and glide freely all over the technical / sonic possibilities of the capricious straight horn.
But maybe, most important of all, the Egg Farm Hall itself had something to do with the quality of the music. The lovely countryside environment, the simplicity and human scale of the Hall design with its warm wood walls, the appreciative audience coming all the way from the monstrously big City of Tokyo, do contribute to a pleasant feeling of intimacy and relaxation, with no undue pressure, musicians knowing that they are here to play to close friends and true connoisseurs. Like an osmosis, the positive energy of an extremely attentive crowd (can anyone imagine a New York audience remaining totally silent for over five full minutes, waiting for Lacy and Togashi to appear onstage the first night?) must have been felt deeply by all performers.
Last but not least, the Producers must be commended for organizing such extraordinary event, and for being such good hosts to their "regular" customers and their "preferred" artists. Their choice of French wines were consistently excellent, and so were the Sake and the locally grown apples… not forgetting the magnificent eggs (noblesse oblige!), whether hard / soft-boiled, or offered in tasty, unctuous egg sandwiches!
As there was no authorized recording of the "festival", the music is gone, impregnated in the dark amber colored wood of the Egg Farm Hall, dissipating slowly its energy in the air of the peaceful countryside, adding to the aura of mystery surrounding Lacy's blurry Japanese musical output. Only a few precious fragments of personal memories of some very spiritual moments shall live on. But there is nothing to regret. It is better that way.
"Domo Arigatoo" for the splendid music.