THE CRY: American Premiere
28 June 1998
Jewish Community Center, Washington D.C.
Steve Lacy's musical innovations, from solo improvisations through unusual multi-instrument orchestrations to those involving theatrical works, poets and dancers, have long been recognized as the main driving forces of his career, besides his life-long passion for the music of Thelonious Monk, of course. But examining his ongoing considerable "oeuvre", it is plain that Mr. Lacy's fascination with words (what he calls "le flux du langage"), already evident in his sonic explorations of the late sixties/early seventies, has become more and more preponderant in his recent works.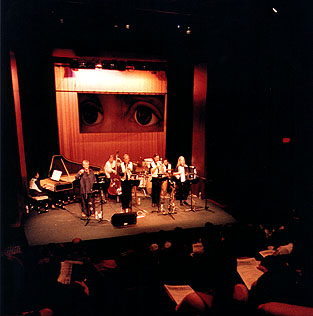 His latest major endeavour, "The Cry", which premiered in the USA this past Sunday in Washington DC, is described by Mr. Lacy as a "jam opera". It appears as the logical evolution of his adventurousness in multi-media encounters, which can be broadly traced through albums such as The Woe (1973), The Way (1979, first ensemble version of the Tao cycle), Songs (1981, with Brion Gysin), Futurities (1984-85, based on verses by Robert Creeley), to the more recent major works like Vespers (1993), which focused on Blaga Dimitrova's mystical and clever poems, and Packet (1995), which presented songs about theatre, life, death, birth, aging, pain, wandering, being a woman, inspired by Judith Malina's "Poems of a Wandering Jewess".
In the making during all of 1996 while Lacy was in Berlin on a DAAD grant, "The Cry" has been an assiduous, lengthy and rather difficult (even tumultuous) endeavour since Taslima Nasrin's gripping poem, "Happy Marriage", appeared in The New Yorker magazine in September 1994. A journalist and a poet, Nasrin's outspoken feminism prompted conservative Islamists in Bangladesh to order her execution, forcing her to go in exile.
The poem immediately appealed to Lacy and inspired him to write music based on her biting words: the resulting song, renamed "The Cry", was first featured in New York at Sculptor Alain Kirili's AC Project Room in late December 1995 as part of a program entitled "Old Flames" (in duo with Irene Aebi). But, just as it was Irene's idea to set to music the poetry of Judith Malina, it was again her idea to make Nasrin's poems, which she could relate to her own politics and feminity, into an opera. The rest is now history.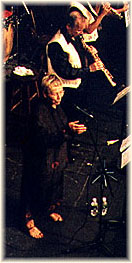 First presented as a work in progress in Calais (France) on a bare stage in November 1996, "The Cry" necessitated serious security measures to protect Nasrin from renewed death threats made by fundamentalists. It had a relatively incident-free World premiere in Berlin (Hebbel Theatre) to a sold-out audience in January 1997. It was well received in March 1997 at the Women's Festival in Palermo (Italy) by an enthusiastic audience of some 800 spectators. However, its first French presentation / live recording in Paris (Théâtre Dunois) in April 1997 had to be produced by the artists themselves as a result of an unfortunate misunderstanding with the "Banlieue Bleues Festival" producer about the artistic integrity of the show, as Nasrin's physical presence on stage was no longer to be part of the show... Since then, it was played in Geneva and Bordeaux earlier this year. It thus took well over a year to organize the current North American tour in Vancouver, Washington and Chicago (see concert schedule).
The American premiere in Washington on 28 June (two performances, at 3 & 8 p.m.) was part of the capital's "Jazzarts '98" Festival, running from 07 June till 16 August. Despite an enticing announcement in the (usually) influential Washington City Paper presenting "The Cry" as THE event to see/hear on Sunday 28 June, and despite sizeable ads both in the local press and in national jazz magazines, attendance was puzzlingly shockingly poor : some 60 spectators only at the matinee and slightly less than 100 at the evening performance, where the unannounced presence of a very unassuming Taslima Nasrin and a small entourage (bodyguards?) was noted.
So what's wrong with American audiences? Two days earlier, in the Canadian city of Vancouver, the concert hall was packed. In the American capital, where gender issues are so prominently in the limelight, often measured with political correctness in mind, where "Women in Jazz festivals" have been fairly regularly organized in the last few years, one would have expected more interest in such noble artistic, almost "feminist" event. Sadly, there appears to be a general indifference in this country to anything not considered "pop" or immediately saleable or commercially profitable...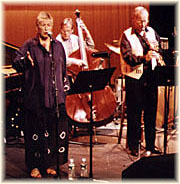 Variously / erroneously called by some critics and the press, "a jazz operetta" (there is nothing light or amusing nor any dialogue in it), a "mini opera" (maybe), and also "operina" (now what is that?), "The Cry" is best named as Mr. Lacy calls it himself, a "jam opera", with all that these two words imply. He describes it as follows:
"The words of a dozen songs tell the story of a woman from adolescence until old age, especially about matters of the heart, and the subjugation of women in society and their own bodies, and to men in particular and in general. It is the story of all women, transformed from poetry to song and jazz. The show is also about the nature of language, the power of words, the danger and the necessity of speaking out." .... "The musicians play an exhaustive score of some 40 pages of music and also improvise their own commentary."
"The Cry" is a moving musical portrait of a woman, revealing both her strength and her vulnerability, talking about love, pleasure, pain and aging. It is a rather unusual opera in every artistic aspect which had to be addressed in such adventurous terrain, i.e. its extensive musical score, its subtle orchestration, its gender sensitive personnel (four women and three men), its sober but powerfully effective decor, and its discreet but definitely appropriate costumes.
It is a very fresh piece of music in two parts. Each part, comprised of six poems, is played almost as a continuous piece, each poem literally flowing into the next one. The tension created by the last verse of Aggression: "in tremendous fear I secretly go on living", finds its relief in a 15 minutes intermission which also serves to change the simple but powerful decors, designed by Wanda Savy, portraying two close-up views of a woman's face which reminds some of Modigliani's paintings. Each banner (one for each part) befits the nature of each series of six poems and reflects the woman's outlook on herself at different stages of her life : quite appropriately, the first focuses on the intense eyes of a young, B and hopeful woman, marvelling at life, looking "droit devant" (as the second poem Straight path implies) bravely facing with innocence, surprise and courage the problems she encounters; the second shows her almost full face, more introverted, sort of sadly looking back with immense eyes, reflecting on her inner thoughts and dreams, on her desires, and on getting old (as the last poem Rundown so vividly depicts).
The costumes, created by Pia Myrvold, smartly combine fragments of the text and of the score, each natural linen vest worn by each musician (except Aebi, who has her own wardrobe) being a one-of-a-kind creation, making a B visual statement about the power of the words and of their intelligently written complementing score.
Musically, "The Cry" has a genuinely new sound, what would be called in French "une sonorité inouïe" (= literally translated, a sound no one has ever heard before) blooming from a truly unconventional septet composed of double bass, harpsichord, accordion, latino percussions/ congas, sopranino saxophone/bass clarinet, soprano saxophone, and voice. Just think: have you ever heard harpsichord (played at times not unlike Cecil Taylor's famous "elbow" chords...) swinging with latino percussions rhythms? or a very feminine, dreamy accordion, so unlike Piazzolla's all too often imitated typical phrases? or the relatively "classical" set-up of bass clarinet/ harpsichord/ double bass, spiced-up with "modern" metallurgic harmonics coming out of a soprano saxophone? Simply put, the music is captivating in its great freshness, and fascinating in both its simplicity and complexity.
But it is Steve Lacy's writing for his voice - his wife Irene Aebi - which ties it all together. It is hard to imagine any other woman's voice capable of so poignantly conveying the most vulnerable traits and B qualities of the woman who can be sensed and guessed through the poems, which are so difficult to sing. For now, Irene Aebi is plainly the only singer capable of performing those songs, as only her vocal assets have the humble quality of that "average anonymous woman" courageous enough to speak out, express her fears and dreams so openly, and smile and laugh in despair at the decrepitude of a woman's aging body :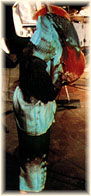 "Once I had the body of a queen
Now it's lowly, decrepit, an old house
plaster falling off
Sad, but true"...
Her performance was a real "tour de force" at times reminiscent of some of the Schoenberg's Pierrot Lunaire stunningly difficult "Sprechstimme" vocal gymnastics. Despite what seemed like an unevenly adjusted sound balance, she impressively carried the weight of the powerful poems translated from Bengali by Carolyne Wright, and ironically expressed the profoundly cruel realism of the shattering Rundown ("Ambapali speaks" text of 500 B.C.) which concludes "The Cry"'s invocation.
All in all, "The Cry" is a challenging and complex piece of music, which requires -- like most masterpieces -- sustained listenings to fully appreciate. Maybe, like Schoenberg's Pierrot Lunaire, the best way to approach "The Cry" is to listen to the work's continuity, the shifting play and permutation of instrumental sonorities, and the progress and projection of the text, bringing speech and song into close harmony. With the profound meaning of the poems, these traits seem to be what makes "The Cry" new, abrasive, exciting, and frightening in the lesson it teaches the attentive listener about the life of a woman.
Gilles Laheurte, 29 June 1998 - Photos © Gilles Laheurte