Weal and Woe

Solo concerts by saxophonists are a recent development in jazz. Hawkins, Rollins, Dolphy and especially Anthony Braxton opened the way, and now it seems quite logical and, in a certain sense, easy to fill an evening with a single voice.

(Steve Lacy, 1974)

Recorded in 1972 & 1973

Steve Lacy soprano saxophone Steve Potts alto saxophone (9, 10, 11) Irene Aebi cello & voice (9, 10, 11) Kent Carter bass (9, 10, 11) Oliver Johnson drums (9, 10, 11)

Ind.
Title
Composer
Dur.
1/
The Breath
Steve Lacy
5:33
2/
Stations
6:19
3/
Cloudy
3:17
4/
The New Duck
5:39
5/
Josephine
5:38
6/
Weal
4:03
7/
Name
4:59
8/
The Wool
5:49
The WOE:
9/
The Wax
1:22
The Wage
16:52
10/
The Wane
9:48
11/
The Wake
2:23

Recorded [1 to 8] live on August 7 & 8, 1972 - Théâtre du Chêne Noir à Avignon (France).Engineer: Georg Radanowicz. [9 to 11] in studio on January 26, 1973 - Zurich (Switzerland).
[1 to 8] originally issued in 1974 as Emanem LP 301; [9 to 11] in 1979 on side 2 of Quark LP 9998.
Note (Kentz & Roussel discography v. 5): there are two pressings of the Emanem LP; the one from 1974 has the liner notes typesetted, the second one (1975) typewritten (the sound quality on the first pressing is very poor, according to Martin Davidson).
1995 - Emanem (UK), 4004 (CD)

Tracks 1-8:

1977 - Denon Jazz/Nippon Columbia (Japan), YX-7552-AX (LP:

Concert Solo

)
1975 - Emanem (UK), 301 (LP:

Concert Solo

)
1974 - Emanem (UK), 301 (LP:

Concert Solo

)

Tracks 9-11:

1979 - Quark (USA), 9998 (LP:

The Woe/Crops

)

Liner Notes
As well as being musically superb, the 1972 Avignon concerts are special for other reasons. Most importantly, they were Lacy's very first solo concerts, although he did make an excellent overdubbed solo record for Saravah the year before ("Lapis"). (For 'solo' read 'alone' or 'unaccompanied' rather than the usual music business meaning of 'very accompanied'.) They also contain the only published recordings of his pieces Josephine and The Wool, and the earliest of The New Duck and Weal. Plus, this music was the first recording to be issued on the Emanem label, way back in 1974.
Martin Davidson (excerpt from liner notes - 1995)
The Woe is another story. Conceived in the horrors of the Vietnam War, it is a melodrama in four parts for quintet, two cassettes of war noises (air & ground) and voice.
This piece was the principal music we performed during the last two years of the U.S.A.'s involvement in Vietnam. This was the last time we played it. It was recorded (the night before the peace treaty was signed) in its entirety, and broadcast in Switzerland.
Steve Lacy (excerpt from liner notes - 1974)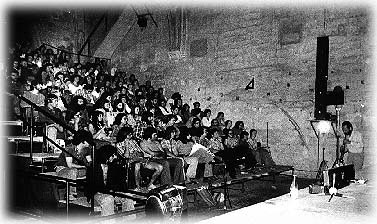 Solo Concert at Théâtre du Chêne Noir, Avignon (France) - August 1972
Down Beat
Lacy is one of the great innovators of solo saxophone, and this fabulous reissue includes his very first lone venture, from 1972. Many of the ideas on tap in his book [Findings] are evident in these cuts: marshalling the harmonic series, utilizing a wide range of articulations and the natural sound of the soprano, and thoroughly controlling the wind.
On Stations, Lacy improvises off of a mellow soprano voice emanating from a transistor radio in the background...
The reissue also includes one side of the LP Crops, an extreme anti-Vietnam War suite from his quintet, circa '73.
John Corbett (Down Beat, June 1996)
In fact, Lacy's "first lone venture" is the LP Lapis, but Crops remains the first recording of a solo concert.