Jazz + Classical Music + Absurdism=

New Dutch Swing

An in-depth examination of Amsterdam's vital and distinctive jazz scene

Kevin Whitehead

Billboard Books

, 1998
ISBN: 08230-8334-9

- 6 x 9 (16 cm x 24 cm)
- 338 pages
- 16 black-and-white illustrations
- Hardcover
The Netherlands' thriving creative music scene-based on a mix of jazz, classical music, and absurdism-is described in depth from the perspective of an American music critic's insightful accounts. The book explores Europe's most vital "alternative musical universe," where improvisers and composers banded together to create a distinctive new sound. It combines oral history with critical evaluations of key recordings and recent club and concert appearances. Also discussed are various sociological and linguistic factors that affect Dutch jazz and its connections to American music.
(editor notes)
Contents
Introduction
Prologue


Part I: Founders

How the Dutch Tell Time *
City Kids
Border Crossings
Farewell to the First Golden Era

Photo Gallery


Part II: Troops

Menu Options *
String Section
Traveler's Tales *
Brass Bands *



Part III: Composers

Eight to the Bar
Boomers *
Third Generation *



Works Consulted
Discography
Index
* parts including quotes of Steve Lacy
Excerpts
Actie = Action
About De Volharding, a band "specialized in playing fortissimo, out of tune":

Steve Lacy has said about influences, the things you run away from are as impor tant as the things that attract you. Omitting drums from Volharding is a prime example. Thus (if Breuker's to be believed) did Han Bennink playing consistently too loud help fix Volharding's permanent lineup. [page 79]
De Volharding was orchestra as demographic and democratic laboratory. In its early years they played arrangements of revolutionary anthems from Spain, Vietnam and Chile, arranged by Andriessen, van Manen or Altena, or Breuker sideman Jan Wolff, who joined up before long, or Misha Mengelberg, who didn't. (Loevendie was the first to quit: "Politically speaking, I didn't think it was very efficient, but that's not a comment about the music.") The orchestra also played Louis's "Volkslied" (Folksong) in which the Dutch national anthem slowly gives way to the "Internationale"; his On immy Yancey, which we'll get to later on; a Weill Threepenny Opera suite arranged by Breuker; Steve Lacy's '74 Precipitation Suite — a bouquet of pieces with weather themes — with the soprano saxophonist as guest.

[page 81]
Organization Is Not Hierarchical
Michel Waisvisz, about his "crackle boxes" (used in some of Steve Lacy's albums):

I was very lucky: Gunter Hampel sort of picked me up from Willem's band, and I went on a little tour and worked in Germany. Suddenly a tape from a rehearsal became a record." Waisvisz is on the May '71 B side of Hampel's (Ballet) Symphony No. 5/Symphony No. 6 — a duet where he plays modified Putney, and Hampel soprano, vibes and ocarina. Michel's in the background, but he creates a nice atmosphere. "Through that connection I met Steve Lacy, another person I really liked to work with."
"I came to STEIM [Studio for Electro-Instrumental Music] as a customer in '73, to make the first crackle boxes. The Putney was too big. I wanted that same idea, but using dedicated hardware. I wanted a synthesizer you could carry with you like a normal instrument, and that made really wild electric sounds. I developed them with Nico Bes, and Peter Beyls, a Belgian guy, and Johan den Biggelaar.
[…]
"With the crackle box there's a direct motoric link between finger movements and the electronics. The more you squeeze, the way you change pressure on the contact points, has an incredible influence on modulations and things like that. The envelopes of sounds, like loudness and pitch, change, and sound much more natural, because your little twitches are also translated. I don't know how to decode all those little twitches, but they reveal something about me, about my physical abilities, about my character." [page 95]
[…]
Waisvisz and company eventually cranked out a range of whimsical crackling devices, some more for exhibition than performance. There was a crackle bicycle, and a crackle tea service — tea poured from wired pot to wired cup made the connection — and an elaborate crackle synthesizer.
[…]
Six exposed metal strips—laid out close together to facilitate short-circuiting — laid exposed on the lid of a small wooden cigar box, about the size of a period transistor radio. Sometimes, in fact, faint radio signals emerge from its tiny built-in speaker, fueling the (inaccurate) rumor it contains the guts of a transistor radio, but it's a dedicated device: basically an unstable oscillator.
[…]
The best thing about a crackle box is, it's good for nothing except improvising: you can't even be sure some fingering will produce any sound at all, let alone the one you got last time you tried it, yesterday or two seconds ago. (Sometimes it takes 30 seconds of touching this and that before you get a peep out of it; sometimes it'll keep whooshing after you've put it down.) A combination that works when made with the fingers of one hand may not work if you use two hands, because the resistance pattern is different. You can be wailing along deftly, and suddenly you'll touch the wrong pad, and the box will withdraw into silence from which it cannot be coaxed. But not hearing it doesn't mean it's not working; its high notes can soar out of human range. You'll be trying in vain to get a response while a dog down the block goes berserk.

[pages 98-99]
Organization Is Not Hierarchical
(cont.)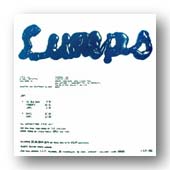 Backtrack: Waisvisz's modified Putney is all over 1974's Lumps, ICP 016, by Steve Lacy's "Dutch quartet" with Maarten Altena and Han Bennink. (Michel had also been on Lacy's fine, obscure Saxophone Special, from Emanem Records, 1971: four saxes, modified Putney and Derek Bailey.) On Lumps, Lacy as ever hugs his own style: flexible-rubber soft-reed timbre, ambling, unhurried time, tunes full of sing-song repeats. His band supplies ironic running commentary. They taunt each other a little, cozily. When Altena bows an exercise figure, Steve immediately runs up and down a scale.
Waisvisz contributes audio Rorschacht: variable-speed drill, creaking floor, chirping birds frogs monkeys (or Lacy), arcs of raw sound, the eloquence of Cousin Itt. Michel gets some great sounds, and wields them with amazing restraint, or perhaps humble acceptance of lack of control. He never wears out a particularly striking/swooping gesture, doesn't/can't repeat it where or as often as you'd expect: his oblique strategies are a nice counterpoint to Steve's carefully ordered statements.
[…]
Altena was still developing his rude bass sounds; he has a strong pizzicato attack, and coaxes out strong high overtones with his bow. His rasp reinforces Michel's coarse texture and Lacy's squeezed harmonics. The surface has a garish sheen, the more so where Han plays clarinet, sorry "hanrinet"; it may take a second to identify who is making what awful sound. When Lacy emerges into his typical la-la cadences, he stands out in bold relief.
Bennink by then had many ways of dealing with the rhythmically intransigent. When everyone else goes to long notes, he reaches for ashcan school disruption, in rhythm. On the piece Lumps he seems to dump his whole trash pile of percussion at the end of each Lacy line, caged-caveman version of Edward Blackwell punctuating Ornette. The record's a vivid example of what Bennink brings to a group in over all style and attitude. Lumps was a typical ICP record in the occasional crudeness of the cutting. Snips begins with the sound of snipping scissors, followed by bald cut to a noisy Bennink intro in progress.

[pages 99-100]
Organization Is Not Hierarchical
(cont.)
Steve Lacy interview (excerpts):

The first time I came to Holland was probably with Carla Bley's Jazz Realities group in 1966, with Aldo Romano, Kent Carter and Michael Mantler. In '68 I came to Holland and Germany with a quintet from New York: Kent, Paul Motian, Irene Aebi and Enrico Rava. We had a few gigs, but nothing much materialized, so I went to Rome.
"Somewhere around '66 I first came to Amsterdam, met Louis Moholo and John Tchicai. […]
"I didn't start to use the Dutch landscape until the early '70s, when I started coming up a lot from Paris and collaborating with Dutch musicians. I think I did one of the first concerts at the BIMhuis, a piece called Garden Variety, with a dancer, taped Roman street sounds, and a mix of players from Paris and Amsterdam. I did some the ater things with Han, Misha and Michel Waisvisz, made a few records, did some solo concerts. I appreciated the mix of jazz, theater, literature, painters, canals. Refreshing. That theater-of-the-absurd, ridiculous Dutch humor: there were some talented actresses and such, and it was an important part of the scene, but I don't speak Dutch so I don't know what they were talking about.
[…]
"I learned a lot from Han and Misha. Misha was the head and shoulders of the scene as far as mind power goes. He had the conception. He had instant composing going in the '70s, was using some techniques that we all learned." By now the term 'instant composing' has acquired a new meaning: conducting improvisers.
"In the '70s we were poor in the pocket but it was a very rich time. I call them the scratchy '70s 'cause we were all scratching. It was all about research and survival. So many relationships got formed then, musical and otherwise. A lot of new stuff was going on. Now I don't hear much I haven't heard before. So much is accessible now— we're over-accessed. There's so much stuff you can buy in a store, learn in school, have on the screen. The vast menu: we're over-menued.
"Misha understood Monk as well as any musician I know. He wasn't fooled, knew exactly what was going on, and could do it. Misha had an uncanny lack of waste in his playing, especially rhythmically. He's one of the few Europeans whose mise-en-place is together: his time. It has a lot to do with his partnership with Han. The relationship between them is one of the fundamental strengths of this scene. Between them you had the nucleus of the whole thing. That inspired me to deepen my relationship with Steve Potts, to get to music you couldn't get by yourself. Or take Roswell Rudd. If you have the right partner, you can correct each other's faults, go further. I think this is a much-neglected subject in jazz, and elsewhere.
"I worked with Volharding, played some workplace gigs, arranged The Precipitation Suite for them. I'm sure Maarten Altena procured that for me. He sort of sponsored me in Holland. I knew Louis Andriessen through him, and I liked his Yancey piece very much. But I didn't play their normal repertoire, just my own suite, and that's been through so many versions since I can't remember what it sounded like.
"Michel had just invented the crackle box when we did Lumps. I'd be afraid to listen to it! That was my Dutch record, my Dutch quartet. We worked a few gigs, I don't remember the details. It was like Dutch cooking, too heavy to have every day. But those misunderstandings are part of the understanding you wind up with. It teaches you what not to expect next time. Monk was on my case like that—he'd push me for wanting the wrong things.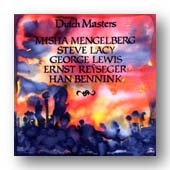 "Richard Teitelbaum had turned me on to the possibility of playing with someone using electronics. Michel was fun to play with, had a lot of elan, had some fresh new sounds. It was fun. He didn't have all that Japanese hardware; I hated all that crap. This had a human scale to it. I could play it myself, it was okay." You can hear Steve Lacy's crackle box blurting away, briefly, on Tracks (Part Two) from Clangs (Ictus), duo 1976 with Italian drummer Andrea Centazzo.
"Another aspect: poetry festivals. In the middle-late '70s there were lots of them, with all these poets — Brion Gysin, Allen Ginsberg, all the cats. They were held at the Milky Way mostly. Back then, those places were psychedelic, almost. A wild, almost innocent scene. A rave, a permanent rave. Everyone getting high, very free and lively. The interchange with all these disciplines, that was what I liked." The Melkweg— the Milky Way —is a big rock club on the Leidseplein.
"Later I worked with Misha and Roswell on the Herbie Nichols project. It was a revelation for a lot of people, myself included. […]
"We had a conflict about something I wrote that Misha wouldn't look at. A misunderstanding, but we could always work again. After the Monk and Nichols records, the last time I really worked with Han and Misha we made a record I called Dutch Masters. I wanted a cigar box on the cover. We had a little conflict about the title; they didn't like it. I pulled a joke on them and they didn't like it!
"You always had a nice welcome if you worked with local cats. But it wasn't what I really wanted to do. I could always collaborate, but when I wanted to bring my own band it was another story. All those years, I had one gig with my own band, in Rotterdam. Frustrating. So I stopped coming in a way. But I had wonderful rich experiences with everybody."

[pages 100-102]
Side Exit
About Maarteen Altena:

In the '70s he played with Breuker, Mengelberg, Volharding (politics not music forced him out), the Cusack-and-Janssen pool, German trombonist Gunter Christmann, Derek Bailey's Company conclaves, Steve Lacy. After the quartet Lumps he and Lacy made the 1978 duo High, Low and Order (reissued on CD). "I've always liked improvising with Lacy very much. Looking back, I think what I must have liked was that he also has this clear melodic style, and doesn't use too many notes. Like Monk. In that duo, I had the specific role of adding expressionism to it. Or a kind of very basic, almost archaic, percussive bass style, to give his playing a frame."

[page 282]
Publisher
Billboard Books, an Imprint of Watson-Guptill Publications/New York
A division of Billboard Productions, Inc
1515 Broadway
New York, NY 10036
USA
web: Billboard on-line