Lift The Bandstand
Peter Bull
When I used to work with Monk, he used to say, "Let's lift the bandstand". That's magic, man, when the bandstand levitates. I didn't know how to do it but I knew what he was talking about. Old dreams but they're still valid.
(Steve Lacy interviewed by Brian Case for The Wire no. 1, summer 1982)
A jazzportrait documentary produced by Peter L. Bull
LIFT THE BANDSTAND is a portrait of the music and career of the acclaimed soprano saxophone player Steve Lacy, as told to us in his own words and in uninterrupted performances of his music. The one-hour film features two performances by the Steve Lacy Sextet, a solo performance by Lacy, and rare archival footage of such Jazz legends as Sidney Bechet, John Coltrane, Gil Evans and Thelonious Monk - all important influences on Lacy's music. These elements are interwoven with interviews in which the articulate Mr Lacy makes wryly humorous observations about the ups and downs of his career and traces his musical influences.
U.S.A. 16mm, color, 50 min
Produced and directed by Peter Bull
Photographed by Herbert Forsberg. Additional photography by Mark Trottenberg, Nick Doob, Peter Bull
Sound by Ken Levis. Mixing studios: Sound One. Lab & transfer: Du Art Labs
Music: Steve Lacy. Concert recorded live at The Public Theatre (New York City) in October 1983, played by the Steve Lacy Sextet: Steve Lacy (soprano saxophone), Irene Aebi (voice), Bobby Few (piano), Steve Potts (alto & soprano saxophones), Jean-Jacques Avenel (double bass), Oliver Johnson (drums).
Musicians included in archival footage: John Coltrane (soprano saxophone), Sidney Bechet (soprano saxophone), Thelonious Monk (piano), The Gil Evans Orchestra.
List of compositions: Afro Blue, Saint Louis Blues, Criss-Cross, Blues for Pablo, Prospectus, Gay Pare Bop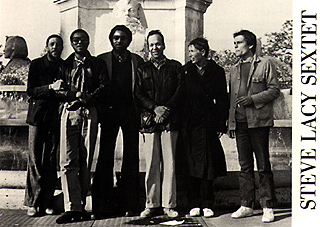 Postcard included in the 2 LPs set Blinks (Hat Hut)
Photo Horace
Production:
Contact:

P.O. Box 39,
New City, NY 10956
USA
Note: webtstores no longer possess the rights to distribute the film. Copies of the film sold on the web are pirated versions.