Steve Lacy Two, Five & Six:

Blinks

You have to go blindly through the work and follow its dictates.

(Steve Lacy)

Recorded in 1983

Steve Lacy
soprano saxophone
Steve Potts
alto & soprano saxophones
Irene Aebi
cello, violin & voice
Oliver Johnson
drums
Bobby Few
piano (1.2,1.3)

CD 61891
Ind.
Title
Composer / Author
Dur.
1.1/
Stamps *
Steve Lacy
7:33
1.2/
Blinks
Steve Lacy
16:14
1.3/
Prospectus *
Steve Lacy / Blaise Cendrars
7:02
1.4/
Wickets
Steve Lacy
18:51
CD 61892
Ind.
Title
Composer / Author
Dur.
2.1/
Three Points
Steve Lacy
14:20
2.2/
Clichés
Steve Lacy / Aline Dubois
23:19
2.3/
The Whammies
Steve Lacy
14:44

* not on original LP release.
Recorded live on February 12, 1983 at Rote Fabrik Zürich. Engineer: Peter Pfister. Mixed and CD-master by Peter Pfister.
Producers: Pia & Werner X. Uehlinger.
Cover photo: Udo Breger. Cover art: fuhrer vienna.
1997 - Hat Hut (Switzerland), hat Art CD 2-6189 (2xCD)
1984 - Hat Hut (Switzerland), hat ART 2006 (2xLP)

Liner Notes
"Sans le piano, la couleur est très différente. La musique est plus sèche. Le piano est une composante liquide dans notre musique, très importante pour remplir l'espace derrière la voix."
Comme un fait exprès, le pianiste n'était pas là lorsque ce qui aurait dû être le sextette de Steve Lacy est monté sur scène; il avait loupé l'avion pour Zurich...
Qu'à cela ne tienne, se retrouvant donc inopinément en quintette (comme des années auparavant), les musiciens mirent de côté les nouvelles partitions et, de façon impromptue, composèrent un programme basé sur des thèmes qu'ils avaient l'habitude de jouer depuis cinq ou six ans, comme quoi l'improvisation peut déborder du cadre musical qui lui est, en principe, imparti et les "à-côtés" en devenir une composante.
Comme avec son saxophone soprano, Lacy a appris à se battre avec peu de moyens, sans aides, sans subventions, sans le renfort artificiel de quelque guest star qui permet de grossir une affiche. Contrairement à beaucoup de musiciens de jazz qui réunissent un groupe uniquement pour honorer une affaire, Steve Lacy a bâti un véritable orchestre, on pourrait dire une famille de musiciens à qui il a offert de s'aventurer. Son projet musical était clair, chacun était convié à faire un bon bout de chemin avec lui. Certains y engageront presque leur vie entière. D'Irene Aebi rencontrée dans les années 60 à Bobby Few qui compléta le sextette en 1980, en passant par Steve Potts qui "entra" dans la musique de Lacy dès 1971, Oliver Johnson présent en 1973 puis à nouveau en 1976, et Jean-Jacques Avenel à partir de 1977, tous ont apporté leur pierre à un édifice qui, parti sur des fondations fiables, est devenu l'un des plus solides, l'un des plus cohérents, l'un des plus riches et l'un des plus ouverts de ces vingt ou trente dernières années.
"Ce sextette est la base de tous mes exercices musicaux. C'est une équipe difficile à maintenir, à faire tourner. C'est grâce à la constance de ce groupe que je peux me permettre de jouer aussi en solo, duo ou big band. C'est pourquoi il peut redevenir quintette si les circonstances le commandent."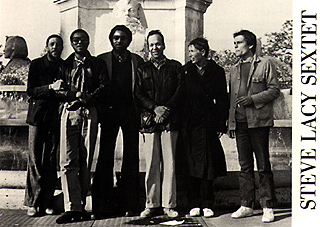 (B. Few, S. Potts, O. Johnson, Steve Lacy, I. Aebi, J.-J. Avenel)
Photo Horace
Le groupe de Steve Lacy est un laboratoire perpétuellement en état de marche, un champ d'expériences continues où l'on ne fait pas de savants mélanges pour le simple plaisir de voir exploser les préparations. La musique de Steve Lacy est anti-spectaculaire, elle refuse les artifices, les ficelles, le brillant, le tape-à-l'oeil. Rarement on aura entendu, en ce dernier quart de siècle, de musiques aussi denses, aussi originales, aussi cohérentes, aussi exigeantes et aussi identifiables.
"Ce groupe est exactement ce que j'ai toujours souhaité. Quand il y a un organisme, un groupe, ll y a toujours des gens qui veulent ou bloquer ou détruire ou diviser ce qui existe. La plupart des organisateurs de concerts et de festivals ont des idées qui s'opposent aux miennes (...) Je voudrais faire jouer tout le groupe pour le développer sur le plan musical."
Jean Buzelin (extrait des notes de pochette - février 1997)
Liner Notes
The labyrinth. Venturing into the maze. To search for some balance between preparation and spontaneity, between the understood and the unexpected. A band: Six people who play together often, who know each other well and know what to expect. But six people looking for underground passages, forcing the music far from itself, deforming the leader's set itinerary and reforming it as something it he couldn't exactly envision. This band is defined only in small part by what has already been played, more by what new possibilities are uncover ed in the process of working together. The real possibility of change, movement, development, accumulation and discarding, metamorphosis. Consistency: hobgoblin of little minds. Do not ask me to remain the same.
Lacy: "Music always tells you what to do next. What must I do? That's the whole story, especially in improvisation."
For over 20 years, the music compelled Lacy to work with a sextet, the Steve Lacy Sextet, in which he utilized the unique talents of Steve Potts, Bobby Few, Irene Aebi, Jean-Jacques Avenel, and Oliver Johnson (later replaced by John Betsch). It was this group that galvanized Lacy's Parisian period, and now that - as of 1996 - he has split up the ensemble, it will be remembered as one of the essential units of creative music. "Finally I gave it up because it was too hard...and also it had run its course, that sound had run its course," Lacy explains. "But that was a wonderful experience, wonderful band. When you play with the same people for a long time you can take a lot of chances, have a lot of fun, and win a lot of games."
Lacy: "Sculptors, they have this stone and it's speaking. You have to ask the rock what wants to come out of it. How does it want to emerge, to cut away the unnecessary part and reveal what wants to come out. That's something that I really learned from Giacometti, because if you really read his life and what he went through, you see the succession of things he did, he didn't know what he was doing, he was following, he was doing these strange things, and then the work became really small and smaller until he had to carry it around in a matchbox. He was embarrassed to present this stuff as his work, he said: 'That's what I'm doing now.' But he couldn't help it. You have to go blindly through the work and follow its dictates."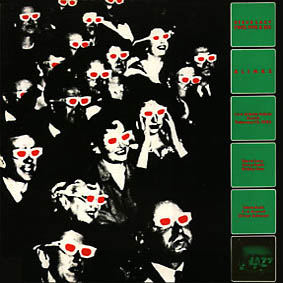 Blinks (LP cover)
Lacy's six-piece was the laboratory for the investigation of "poly-free", the turn his music took after (for the most part) leaving totally free improvisation and sketchy structuration to incorporate once-rejected elements of melody, harmony, pulsed rhythm, pre-organized structure and form. Where called for, the group could feature Aebi's voice, as it does here on Prospectus [and Clichés], but it could also function as a strictly instrumental jazz band, swinging hard as steel or opening up to examine energy blowing, swagge ring rubato blues or diffuse break downs.
Lacy: "The most useful jazz compositions to me are the ones that can be played different ways, that are flexible and simple enough to latch onto. The problem is that what we do is very difficult, it's not simple to do. It sounds simple but it requires a long time of preparation and practice and performance. Sometimes we've been through a lot of frustration not being able to do things enough to get them where we want them. When you play something new it's stiff - you have to play it again and again and again and after awhile it gets malleable. Then it starts to swing. But if you don't get to that point it doesn't swing."
Lacy: "Ornette Coleman told me one day: 'Lacy, seems like you don't know what you're going to play before you play it.' I said: 'Yeah, that's right.' And he was shocked by that because he has a clear conception of a phrase before he plays it, but at that time I was deeply into the unknown, I didn't know what I was going to find. Two different manners of working, both valid; two different premises."
The Lacy group(s): shifting premises, deforming the itinerary... in a blink.
John Corbett, Chicago (excerpt from liner notes, January 1997)
Jazzman
Cette édition limitée à deux mille exemplaires, transférée en "24 bits" - nouvelle étape d'une vaine course technologique -, permet d'entendre Steve Lacy confronté au problème de l'absence de l'un de ses musiciens.
Le 12 février 1983, son sextette est programmé à la Rote Fabrik de Zurich ; le pianiste Bobby Few a loupé l'avion, il arrivera plus tard. Le groupe joue donc à cinq une musique écrite pour six, une forme que le saxophoniste développe depuis des années avec un personnel qui a peu varié (à cette époque Irene Aebi, Steve Potts, Jean Jacques Avenel et Oliver Johnson complètent l'orchestre).
Le quintette par la force des choses fait alors le choix de morceaux souvent joués, dont Prospectus ou Wickets, ce qui conduit le conoert vers ume prise de solos probablement plus marquée qu'initialement (l'ouverture de Clichés, Three Points en duo Lacy-Potts). C'est ensuite le violon d'Irene Aebi qui assume plus souvent le rôle de l'harmonisation amenant souvent le groupe vers une douceur qui contraste avec l'aridité, la sécheresse des deux saxophones (Potts et Lacy allant presque à se confondre, le leader se distinguant par un souffle plus tenu). C'est aussi, avec un élément rythmique en moins, un espace plus ouvert. Tous éléments qui font de ce concert un moment à part de cette époque du sextette.
Mais, au-delà de ce problème circonstancié, Lacy est le soliste majeur de ce concert. Il amène toute sa connaissance du jazz, en prise avec le blues, ondulant par endroits, avançant dans le tempo en dérèglement furieux ailleurs. Une vitalité qui se transmet à ses partenaires et sur laquelle Bobby Few prend appui pour la deuxième partie de ce concert imprévu dont un thème éperdu, The Whammies, conclut le présent enregistrement.
Sylvain Siclier (Jazzman 29 - octobre 1997)