Steve Lacy / Roswell Rudd Quartet
The Jazz Standard, New York City
08-12 March 2000
Less than a year ago, Steve Lacy and Roswell Rudd at long last "reunited" and rekindled their 40 year long musical association, starting to record and tour together again. Every jazz fan, musician and music critic knowledgeable about their rather unique partnership, and interested in their music, recognized their "getting together again" as an important move in their respective careers.

"push" the photo to display another one
In this perspective, the full page photograph of "the intrepid duo" (Steve Lacy / Roswell Rudd, pictured in 1961) which served as the cover of the "Voice Choices" section of NY's weekly Village Voice, is a good example of the importance which should be given to Steve Lacy's current quartet and its ongoing American Tour , which started last week at the Jazz Standard. As Music Critic Gary Giddins summed it up in the Voice's shortlist: "An event". And for sure, all those fortunate enough to have gone to the club for the occasion will agree with the statement that it was, indeed, an event, and quite a remarkable one.
Yes, this was the same quartet recorded on Monk's Dream (Verve), released in the USA just a few days before the Tour (good timing!). Yes, this was the same quartet New York audiences had the opportunity to "discover" last July at the idyllic Caramoor Festival, and hear extensively a few days later at the arrogant Iridium club. And yes, these were (mostly) the same familiar challenging tunes, so typical of Lacy's witty musical universe.
But what a difference since their previous gig in town, what a striking venue this was, spiced up with a few (bonus) surprises:
Lacy arrived at the club the first night with a brand new horn, bought in Paris less than a week before
Rudd arrived the second night also with a brand new horn, and a new mouthpiece too!
Avenel's bass had been fully reconditioned and shone with an impressive warm reddish glow
The quartet's vast repertoire was augmented with one of Rudd's new compositions, entitled

Bamako

, a stimulating piece written during a recent trip to Mali (good news: more tunes are expected!)
Consistently high attendance throughout the week showed respectful, attentive audiences, even on Saturday night (now, that's unusual!)
In the audience during the week: Sculptor Alain Kirili, Painter Kenneth Noland, Producer Peter Bull ("Lift the Bandstand"), Singer Sheila Jordan, Harpist Daphne Hellman, Verna Gillis ("Soundscape"), Jazz Radio people (WKCR from Columbia Univ), among others, including — noblesse oblige — several NY "Senators"
And last, but not least, the Jazz Standard turned out to be quite a nice surprise too, not only for its good seating layout (all chairs turned toward the stage, offering a good view), but also for its courteous attitude towards musicians and patrons alike, and for its excellent food.
Now for the music. The first two pieces on opening night sounded cautious, even restrained, yet had a gentle rolling swing. Maybe too gentle. It felt like the band was searching its proper balance, and it probably was just that. The two tunes most certainly permitted the four musicians to pull out of their respective jetlags, quietly warm up "live", and reconnect. Once they did, the music was promptly taken to new heights of intensity and inventiveness, as early as the fourth tune of the first set, Wait For Tomorrow (see below). Every night was filled with excitement. By the end of the engagement, the general opinion was that there was not a single weak set, all were electrifying.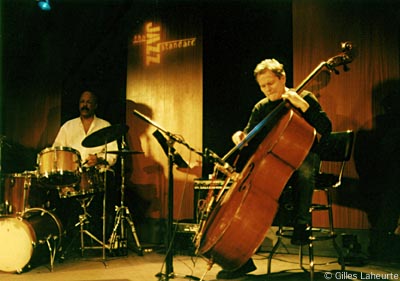 To this writer, the excitement goes a step further: a subtle yet noticeable metamorphosis has taken place in a bare few months. The musicians' empathy and its resulting music, like great wine, has matured into some remarkable grand cru ...
"Un épanouissement phénoménal"
Words alone will never suffice to adequately describe and render justice to the very original music heard for five consecutive nights. But the leader's inventive genius can most certainly be summed up into two words: "Intarissable et infatiguable" (inexhaustible and indefatigable).
An amateur videotape was made of portions of Sunday night's first set, with the leader's and the club's permission. It is hoped that, someday, some extracts will be properly exploited — despite the average quality of the tape compared to today's digital recording standards — so that this writer's enthusiasm for the music can be appreciated and shared by all Lacy fans and profanes alike.


Gilles Laheurte, 15 March 2000