Steve Lacy Trio
+ special guest: Roswell Rudd
31 July 1999
Caramoor Jazz Festival, Katonah, NYC
Judging from its summer season's impressive line-up of artists and from the major refurbishing of the elegantly tented outdoor Venetian Theater (made even more attractive with its easier access and much improved ventilation), it is clear that Caramoor has made every effort to reinforce its reputation as metropolitan New York's largest annual outdoor summer festival.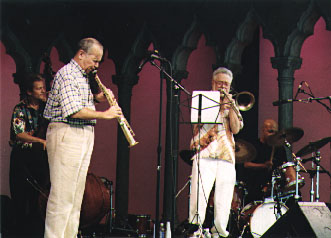 Photo © Gilles Laheurte
Particularly gratifying this year was its two-day Jazz Festival program, featuring jazz musicians of great talent, among which (on 31 July): Andrew Hill, Cedar Walton, Sphere (Kenny Barron, Ben Riley, Buster Williams and Gary Bartz), Steve Lacy, Shirley Horn, and (on 08 August) Dave Holland quintet, Randy Weston, Lou Donaldson, Roy Haynes quartet.
While Lacy's Caramoor debut last year revealed the fresh sound of his collaboration with pianist Danilo Perez (*) -- something new on his truly extensive list of musical associations -- Lacy's return to Caramoor this past Saturday, in contrast, took the form of a much awaited reunion with long time friend trombonist Roswell Rudd. Although their collaboration goes back over 40 years, their joint musical output over that period is regrettably rather limited, but is fortunately documented on several outstanding albums (notably Schooldays, 1963; Blown Bone 1976; and Regeneration, 1982).
But this reunion was in no way a nostalgic return to the past. With such very special guest on board, the usual intimate Trio sound was metamorphosed by the playful and extroverted trombone of Mr. Rudd, which contrasted with the intelligent and introverted soprano of Mr. Lacy.
The resulting quartet is an energetic band, with many creative ideas and colors, which explores Lacy's tasteful choice of tunes and gives them a refreshing new glow. It also explores what seems a relatively unusual repertoire for Lacy, the music of Duke Ellington. Obviously, the Monk and Lacy tunes were expected (since they comprise the bulk of the trio's current repertoire), but two well known Ellington pieces were a real surprise, as not too many can remember Lacy play them in recent years! A tribute to the Duke's 100th birthday? or a return to the two friends' initial focal interest on Duke's music in the early 60's?
Appropriately, In a Mellotone was smooth and swung gently, reminiscent at times of the famous version by Ellington's great Blanton / Webster Band, especially in the "wah-wah" trombone licks deliberately quoted by Rudd. On the other hand, Ko-Ko started in such a cuckoo craze of sounds (screeching bass strings, fluttery soprano whistles and grunts, growling trombone spatters, wild percussion sounds and rhythms) that it grazed derailing in the transition to the theme's real introduction, but was rapidly back on track and swinging swiftly with playful echoes from Ellington's own version of the tune.
Earlier, Monk's Dream had set the level of quality of the music for the entire set, with its stimulating, joyful and swinging pace, benefiting from the band's exciting ideas and surprising turns, and from the very unusual (and very original) sounds coming out of Rudd's physically battered mutes: what great eery and diffused sounds these were!
In general, Lacy's familiar sharp and witty music was rendered more humorous by the bold playing and lively presence of Roswell Rudd, who kept blowing and blowing and "rekindling the fire" in the music improvisations. In particular, it made The Bath, a usually tender and pensive tune, quite cleverly amusing.
Among many highlights, one will remember The Rent (title of Lacy's most recent release on the Cavity Search Label) for Betsch's brilliant drums solo; Pannonica, for its very cleverly contrasted soprano / trombone interplay, and Blinks, always a great vehicle to play a bit wild and crazy, for Avenel's impressive warm toned bass solo.
As could be expected, ample space was given to "special guest" Roswell Rudd, who played quite exuberantly with a bright, impetuous, loud sound, or so very delicately, at times facetiously forcing muffled phrases and whispering words in his large mouthpiece, and who also repeatedly danced around the stage while the band played, seemingly totally absorbed in his musical thoughts.
So, some 40 years after it started, the Steve Lacy / Roswell Rudd rather special musical partnership still works amazingly well. Like two painters sharing the same canvas, the contrast between Lacy's razor sharp/precise brush lines and Rudd's broad crude strokes resulted in artful pieces of catchy textures and subtle colors.
The chemistry between these four great improvisers created some outstandingly witty music, musicians and audience alike radiantly enjoying this joyful (if too short) moment. But there was nothing to lament about: the reunion in New York was not over yet? (**).

Gilles Laheurte, 01 August 1999
---
Note: Tunes were played as follows: Monk's Dream (Thelonious Monk), The Bath, The Rent, Pannonica (Thelonious Monk), In a Mellotone / Ko-Ko (Duke Ellington), and Blinks.
(*) Steve Lacy and Danilo Perez will play in duo at the Charlie Parker Festival in NYC at the end of August, see Concert schedule.
(**) More on the group's weeklong engagement @ the IRIDIUM Club, from 03-08 August 1999.