Steve Lacy Trio on Tour in the USA
November 9, 1997 - Knitting Factory, New York City
---
"A RARE VISIT FROM MR. SOPRANO SAX": such was the title of a NY Times article on Steve Lacy's New York appearance at Ali's Alley on 28 January 1977, a few days after he had played a stunning and mesmerizing solo concert at Environ in Soho. Today, twenty years later, the same title can SADLY be used again for his recent one-night appearance at the Knitting Factory last Sunday, his first in NY in almost two years. Considering Mr. Lacy's rather remarquable career path and his now-firmly established recognition in 20th century improvised music, the choice of the word SADLY is, regrettably, all too appropriate.
Indeed, after some 40 years of exploring the soprano saxophone, after over 200 ../Listen/Records (236, according to the version #5 of his discography, with several new CDs to be released shortly), and despite being universally recognized as the undeniable master of the instrument as well as one of the most important figure in the history of Jazz, one would have expected Mr. Lacy's visit to be more widely announced.
Yet, inexplicably, his concert was not advertised at all in the NY Times, not even mentioned in fine print anywhere in the notorious newspaper "Week-End" section. Inexcusably and scandalously, the Knitting Factory itself did not make any effort to publicize the event : no poster, no special ad, no visible attempt to fullfill its mandate as a place devoted to the promotion of "now" music. It all shrunk down to a simple last minute in-house mispelled (!!) announcement the day of the event:
"Tonight: STEVE LACEY TRIO
Admission $ 12.00"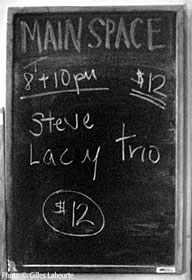 Photo © Gilles Laheurte
hastily handwritten in white chalk on a small blackboard in the Hallway of the Factory...
(note: the mispelling of his name was as seen before the first set, and was fortunately smudged out / corrected by the wet finger of a good Samaritan - most likely a fan knowing better - before the beginning of the second set...). Hard to understand how such a unique and important event could be reduced to the same poor level of advertisement made for often rather unknown musicians performing there (a few of them often better to be fast forgotten)...
In contrast, New York Magazine's little blurb featuring a not so recent photo by Frans Shellekens in its November 10, 1997 issue (page 99) was kind of humorous and is worth quoting here:
"If the words "soprano saxophone" put you in mind of no greater a figure than Kenny G, hie yourself to the Knitting Factory November 9. That night, Steve Lacy, whose wonderfully unpredictable work on the instrument predated even Coltrane's, heads up a trio for his first hometown appearance in nearly two years".
Now, that was an honest statement. But it reinforces the sadness I feel at the thought that most Americans (including President Clinton himself, who was quoted saying at some point that Kenny G was his favorite sax player!!!!) associate the soprano saxophone with Mr. G's mediocre "pop" music and his horrendously nicknamed "Love Horn"... Gosh!
In addition, according to jazz fans in the Capital, the Washington Post also failed to advertise Steve Lacy's appearance at Blues Alley, which took place on Monday November 10. Sad (silent) comment about current average American musical taste and commercial interests...
But let's go back to the Knitting Factory:
A humid/rainy/windy, sort of nasty weekend. Not too enticing for a Sunday night outing... A not so inviting Leonard Street either, with rather dim streetlights, and temporary heavy scaffolding on the building next door, partially hiding the Knitting Factory banner, soaked with rain, fluttering ungraciously in the wind.
Despite these rather adverse conditions, all the "regular" NY Lacy fans were there as expected, (im)patiently waiting in line as early as 7:00 p.m. Then came the usual mandatory stamp on the top of your hand after turning in your ticket in order to be admitted to the Main Space, then the rush to your favorite seat (newly refurbished and now comfy to your butt) and the final impatient moments to welcome the musicians on the stage.

"The Hoot" - Photo © Gilles Laheurte
The evening featured his trio (= 1/2 his former sextet), currently touring North America from 01 November until mid-December, with a performance in a different city (almost) every night (full details available on the website's concert schedule): Jean-Jacques Avenel (bass and thumb piano) and John Betsch (drums). Anyone interested in their music should check the recent release "Bye-ya" on Free Lance FRL-CD 025, with J.-J. Avenel on Cora instead of thumb piano : a rather dark-mood record, due to its main theme, "parting", but definitely another gem in the Lacy discography!

Except for the first piece, all the tunes played that evening were Mr. Lacy's compositions. All were well over 10 minutes long, as follows:
First set: 8 p.m.:
Shuffle Boil (Monk)
The Bath
The Rent
Longing
The Hoot
Blinks
The set can be summarized as starting in flying colors from the very first bars, with another fresh exploration of Monk's music (as Lacy STILL does, amazingly so, after 40 years), and building up to the fiery/intense final piece, which was the "wildest" of the entire evening : chords climbing to sky high notes, grunts, squeaks, glissandos, extensive use of harmonics, sort of frantic development of the piece with Betsch's loud crash cymbals and pounding drums, pushed by Avenel's voluminous tone on bass, returning (all too soon) to a perfectly logical conclusion.
The set was unfortunately marred by too many annoying flashes of an irreverent photographer, who did not even comply to the Factory's request not to use flash... It can only be deplored that some people can so unabashedly behave in such disrespectful manner.
Second set: 10:00 p.m.:
Clichés
The Wane
Flakes
I Do Not Believe
Esteem
Bone
Bookioni (Encore)
Great as it sounded, the first set was soon overshadowed by an extraordinary second set, with a fascinating "Clichés" (with Avenel on thumb piano), one of the most satisfying version to be heard of that tune (the best one, truly MONUMENTAL, being on the recently reissued double album entitled "Blinks", on Hat Art 6189).
| | |
| --- | --- |
| "Clichés" - Photo © Gilles Laheurte | "The Wane" - Photo © Gilles Laheurte |
"The Wane" (a poignant composition, written in the early 70's to describe the process of decay and dismay following the horrors of the Vietnam war) followed with its mournful whining phrase, leading to "Flakes", which had not been played in front of an American public in a long time. During that tune, Lacy had to clip his troublesome reed, while John Betsch 's delicate brushes kept the lightness of the melody flowing all through the piece. "Esteem" was played in a very classical way, with some brief but carefully placed altissimo passages. "Bone" featured Avenel in a long introspective bass solo on the bow (which demonstrated what a great virtuoso he is) and Lacy's own vocal talents, which ended both the tune and the set.
It was 11:30 p.m.: the clock had gone way too fast... After a long applause and a standing ovation, the musicians returned onto the stage : the Encore piece, "Bookioni", was facetiously announced by Mr. Lacy as "a piece that will make you leave"...
All three musicians were greatly inspired, and did not show any major sign of fatigue despite the demanding schedule of their tour (although J.-J. Avenel did look and admitted being a bit "souffrant"). Lacy himself was in great spirits, perfectly at ease with his old Selmer Super Action Series I horn, which he picked up again (he has put his new Selmer Series III soprano back in its case, claiming that it's too "quirky" and has "too many problems", in particular with the octave key). Both J.-J. Avenel and John Betsch provided the perfect balance needed to complement Mr. Lacy's compositions and improvisations.
All in all, a great evening by a great Trio. Definitely one of the most interesting group to be heard today, truly original and far from the rehashed music of the "Re-bop" movement.
Gilles Laheurte (November 1997)