John Betsch - drums, composition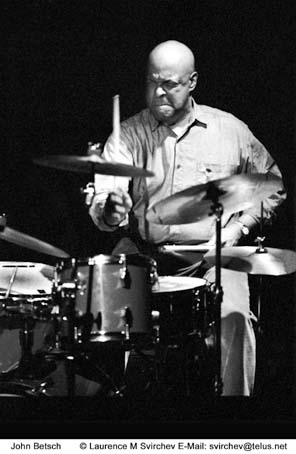 John Betsch was born on October 8, 1945 in Jacksonville, Florida. His mother was a church organist and pianist; his older sister a dramatic soprano singer.
John began playing drums in the school orchestra at the age of nine. At age 18, while still student at Fisk University (Nashville, Tenn.), he began playing professionally with pianist Bob Holmes, Ernest Vantrease and trumpeter Louis Smith. John studied at the Berklee School of Music in Boston and the University of Massachussetts Amherst under Max Roach and Archie Shepp. He has taught at UMASS and in the state prison education programs. In 1975 he moved to New York City where he played with Roland Alexander, Dewey Redman, the Paul Jeffrey octet; vocalists Jeanne Lee, Abbey Lincoln, and the Ted Daniel big band. He toured extensively in the U.S., Canada, Europe and Africa, notably with Max Roach (Newport 1974), Dewey Redman (1979), Kalaparusha (Berliner Jazztage 1976), Abdullah Ibrahim (1979), the Klaus Konig Orchestra and Steve Lacy.
Since moving to Europe in 1985, where he is now based, John has participated in recordings and tours with saxophonists Mike Ellis, Hal Singer and Jim Pepper; vocalists Ozay and Annette Lowman; pianists Mal Waldron, Alain Jean-Marie, Claudine François and Kirk Lightsey. He has toured Japan with Steve Lacy, Mal Waldron, Eric Watson and Michel Sardaby.
John Betsch is currently working with Steve Lacy, Jeanne Lee and Alain Jean-Marie.
Partial discography
Albums
Artists
Labels
The Fire Within
Billy Bang
Soul Note
Earth Blossom
John Betsch Society
Strata East
The Journey
Dollar Brand (Abdullah Ibrahim)
Chiascuro
Africa Tears & Laughter
Enja
Nightwork
Marty Cook
Enja
Red, White, Black & Blue
Enja
Live in Berlin
Marilyn Crispell
Soul Note
What Else is New?
Mike Ellis
Pan
Camarague
Claudine François
Pan
Lazy Afternoon
Alain Jean-Marie
Shäi
Kwanza
Kalaparusha
Bay State
Times of Devastation
Kalus Konig
Enja
Anthem
Steve Lacy
RCA Novus
Monk's Dream
Verve
The Rent
Cavity Search
Bye-Ya
Freelance
Clangs
Soul Note
Revenue
Soul Note
Inside Lookin' Out
Simon Nabatov
Tutu
The Path
Jim Pepper
Tutu
Dakota Song
Tutu
Remembrance
Tutu
I Was Just…
Elvira Plenar
Freeform
Conversations
Dan Rose
Tutu
I Know About the Life
Archie Shepp
Sackville
My Man
Blue Marge
When Was That
Henry Threadgill
About Time
Just the Facts and Pass the Bucket
About Time
Subject to Change
About Time
No More Tears
Mal Waldron
Alfa Jazz
Spring in Prague
Alfa Jazz
Mal, Dance & Soul
Tutu
Live at Utopia Vol. I & II
Tutu
Contact
John Betsch c/o Senators (senators@free.fr)