Steve Lacy / Danilo Perez duo
Sweet Rhythm, New York City
09 & 10 May 2003

photo © Gilles Laheurte
Spring is definitely here. Burgeons have turned into flowers, showing how beautiful every little detail can be. And the Lacy / Perez "association," which started back in the late 90's, has bloomed into a magnificently colorful and creative partnership. The great musical potential first revealed at their Caramoor Jazz Festival performance in the summer of 1998 is now realized.
The music heard at Sweet Rhythm (former Sweet Basil) this past weekend was comprised mostly of Mr. Lacy's angular compositions, several tunes of Monk and Ellington (noblesse oblige!), and a few of Mr. Perez' by now familiar "classics." No matter what the composer, the music was definitely organic, evolving with great magical ease through the many clever inventions of its two creators: the music took everyone present in the club into their world.
Talk about an attentive audience. Rhythmic and outgoing, at the same time wacky and profound, the music was so captivating that the usual background conversations simply were nonexistent those two nights. Yes, great creative music is attention catching.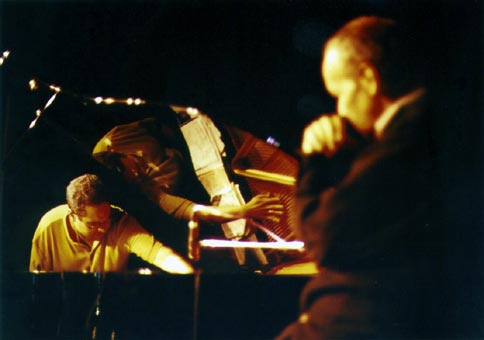 photo © Gilles Laheurte
A few personal highlights:
First night: Grey Blue for its magnificently colorful piano solo, showing us many shades of grey indeed, and the closing tune, Monk's Four in one, which we had not heard Mr. Lacy play for quite some time, for its fast electrifying pace and technical clever inventions.

Second night: Bagdhad, a new composition humorously introduced by Mr. Lacy as "a piece (peace?) that we are still working on" with its somber musical overtones, further enhanced by Mr. Perez creating a stunning air raid sound effects score by the pounding of the strings inside the piano... And the final Blinks, which took the audience into some mesmerizing piano and soprano sonic explorations.

Mr. Lacy's "associations" with pianists are numerous and have always been captivating. But to this writer, this current one indicates a new direction and requires great attention. "L'aventure continue".
Gilles Laheurte, 11 May 2003
The tunes:
Ind.
Title
Composer
Friday: Set 1
1/
Monk's Dream
Thelonious Monk
2/
The Rent
Steve Lacy
3/
Longing
4/
You've Got it Diz
Danilo Perez
5/
Baghdad
Steve Lacy
6/
Blinks
Friday: Set 2
1/
Evidence
Thelonious Monk
2/
Morning Glory
Duke Ellington
3/
Flakes
Steve Lacy
4/
Love in Five
Danilo Perez
5/
Grey Blue
Steve Lacy
6/
Deadline
Friday: Set 3
1/
The Hoot
Steve Lacy
2/
Esteem
3/
Morning Glory (?)
Duke Ellington
4/
Four in one
Thelonious Monk
Saturday : Set 1
1/
Monk's Dream
Thelonious Monk
2/
The Rent
Steve Lacy
3/
You've Got it Diz
Danilo Perez
4/
The Hoot
Steve Lacy
5/
Reflections
Thelonious Monk
6/
Four in One
Saturday : Set 2
1/
Well You Needn't
Thelonious Monk
2/
Morning Glory
Duke Ellington
3/
Baghdad
Steve Lacy
4/
Love in Five
Danilo Perez
5/
Flakes
Steve Lacy
6/
Deadline
Saturday : Set 3
1/
Evidence
Thelonious Monk
2/
Longing
Steve Lacy
3/
Esteem
4/
Blinks

read Will Friedwald's review of the second concert