Steve Lacy / Danilo Perez Duets
08 August 1998
Katonah, NY, Caramoor Jazz Festival
Let's admit it. Until recently, who had REALLY heard of the Caramoor Jazz Festival? and, among the few who knew about it, who had taken it seriously? Every real jazz fan knows the Newport Jazz Festival in Rhode Island and the several various Jazz Festival in New York, of course. But Caramoor? Now thanks to its dynamic producer, Jim Luce, this year's Festival (his fourth) will no doubt bring it out of its blurry existence. But maybe one should start with the basic question: what is Caramoor?

Danilo Perez & Steve Lacy - Photo © Gilles Laheurte
Caramoor is a lovely one hundred-acre estate nestled in the hills of Northern Westchester, some 40 miles north of New York City. Founded by a fortunate American couple who could afford to recreate some of what they had seen in Europe, it was smartly and appropriately built on a homey rather than a palatial scale, "just to be beautiful, and built for music". The House Museum features outstanding period rooms from the last five hundred years, including a truly magnificent Music Room; the grounds combine carefully groomed gardens (where picnics by visitors are actually welcome!) and many splendid natural wooded areas.
Until a few years ago, Caramoor was mostly known to classical music audiences in the New York region, as festivals have been held there for some fifty years (since 1946). The Caramoor Jazz Festival is thus relatively new (about five years old), but the high quality of its programming has been quickly recognized, and for good reasons. This year, on two consecutive Saturdays (from 1:00 till 10:30 p.m.) the Venetian Theater's elegantly tented outdoor space featured (among others artists): Regina Carter, Fred Hersch, Dewey Redman, Jacky Terrasson and Sonny Rollins on August 1st, and, on August 8th, Buster Williams (with Geri Allen), Jack DeJohnette's, Marian McPartland, Diana Krall, and of course, Steve Lacy with Danilo Perez. Quite a display of talents!
Although both programs were sold out, the Theater was never filled as the audience can choose to hear it all, or take a break to enjoy the gardens, the House Museum, or the weather.
Thus the Buster Williams quartet which opened the second Saturday program played to a rather limited audience, fact all the more regrettable since the music was swinging, blessed in particular by the inspired piano playing of Geri Allen; the "floating" music of Jack DeJohnette's trio was very atmospheric but was mostly a yawn, except for a funky rendition of Ornette Coleman's "Lonely Woman".
The third set of the day was a much awaited "first" for Steve Lacy fans, as the collaboration with Panamanian-born pianist Danilo Perez is definitely something new in his prolific musical associations' repertoire. In addition, it was not only Steve Lacy's first appearance at Caramoor, but it was also the USA Premiere of the duo. (After the show, Lacy himself confirmed that their concert was actually the second time only that they had played together, the first time being in Toronto this past June at the Dumaurier Theatre).
Perez was "discovered" by Dizzy Gillespie a few years ago. Quite a discovery. According to the program notes, Perez "dazzled audiences last summer at Caramoor with his breathtaking dexterity". Obviously, the "Caramoor regulars" seemed to be well aware of his 1997 performance as some elogious comments about him could be overheard as the Steve Lacy / Danilo Perez set, entitled "Duets" for the occasion, was about to start.
"Duets" turned out to be an exciting and joyful event. The two artists were having so much fun playing together that the audience shared the feeling and reacted with warm enthusiasm. Both musicians were very attentive to each other's playing, brilliantly combining melodic and rhythmic ideas which one could trace back mostly to Thelonious Monk, but also to Latino roots (obviously!) and (yes!) to Igor Stravinsky, among various other jazz and classical references.
---
A total of 10 tunes were played, as follows :
Monk's Dream (Monk)
You got it Diz (Perez)
Flakes (Lacy)
The Hoot (Lacy)
Lush Life (Strayhorn) DP solo
Revenue (Lacy) SL solo
Love in Five (Perez)
Esteem (Lacy)
Trinkle Tinkle (Monk), and
Blinks (Lacy) as an encore.
The sound system did not seem well adjusted for a duo performance during the opening bars of the first piece, but appeared to be corrected by the engineer as the music progressed. After briefly exposing Monk's famous theme, Lacy went directly into a swinging solo, backed by a strong piano accompagniment of sober left hand / louder right hand chords.
The second tune opened with a piano introduction reminiscent of some passages of the first movement of Stravinsky's concerto for piano and wind instruments, gliding soon though into Lacy's familiar universe: a witty, fragmented and abstract solo, leaving ample room for Perez to take over in the same witty spirit before returning to the theme. Lacy's solo on Flakes followed a similarly delicate and abstract approach, with great soberness in its relatively short development, ending very gently and softly, almost in a whisper, making space for smartly placed dissonant chords in the ensuing piano solo, concluding in a simple reprise of the theme. The Hoot featured some ragtime-like piano accompagniment turning into some "almost free" play, stunningly sprinkled with "traditional" chords which evolved into some kind of minimalist Gershwin-like playing intertwined with some Cecil Taylor's left hand riffs drifting in a quote of Monk's Misterioso... Sounds weird? maybe, but highly effective and entertaining!
During that strong expression of piano showmanship, Lacy appeared very discreet, almost subdued, and, for a few moments, the set appeared more as a feature for Perez, especially since the next piece featured him solo. Left alone, it was the perfect occasion for the pianist to "do his thing" : he created a very intriguing disarticulated rendition of Lush Life which demonstrated his great talents as an improviser and a colorist on a very classic tune. Mesmerizing.
The favor of a solo feature was returned, and Lacy then played a very short and sweet Revenue, mostly in staccato form. Also mesmerizing.
Another very short composition followed, played in duo, without solos. It sounded marvelously lacyesque and monkish. A new Lacy tune, maybe? No. It turned out to be one of Perez's own composition, Love in Five, which left the audience hanging for more, surprised (if not disappointed) that it ended so soon. Esteem was played with a pensive and mellow exposition of the theme, Lacy abandoning his usual jump to the altissimo register, concentrating instead on the gentleness of the melody, Perez developing his own solo close to the theme's chord patterns, while the background of the Venetian Theater turned from a sober purple to a saturated pink. I never dreamed of seeing/hearing Esteem in such rosy way, but incredibly, the change in color did seem just right for the music.
Then, as the theme of Trinkle Tinkle was being played, the background of the Theater turned from pink to bright brownish-orange, which changed the mood completely. Thoughts of Rimbaud's poem (where he describes how vowels seem to hold a particular color) came to mind, and I felt that the orange hue was indeed more appropriate for the rapid / twisting Monk's piece. Perez sounded here a bit like Mal Waldron, strong with left hand chords in the first third of the piano register, while Lacy sounded again like himself in the stratospheric register of the soprano. Perez's dense solo pulled the audience deep into his personal ideas : he could be seen intensely thinking about what to play and how to end, hesitating at times (even struggling!) about which way to go about it, laughing with open honesty at his dilemna. Very clever way to land on one's feet!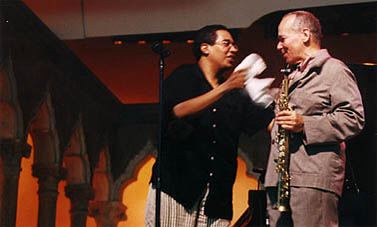 Danilo Perez & Steve Lacy - Photo © Gilles Laheurte
When it was over, the pair congratulated each other for a very creative workout. An encore was necessary as the audience was not about to let this wonderful pair go so easily... Actually, it was evident that both welcomed the opportunity to play more together! Indeed, they went for it "sans se laisser trop prier" and let go completely on the many sonic / melodic possibilities offered by Blinks, always a great vehicle to go a bit crazy : grunts, overtones, glissandos on the soprano, and wild piano chords crashing here and there, suddenly (almost) quoting the riffs of Stravinsky's Ragtime! Great stuff! The audience was thrilled.
The captivating music, and the musicians so openly / radiantly enjoying their joyful rapport, fully trusting each other's improvisations, made time fly way too fast : the set lasted well over an hour, but it felt barely like 30 minutes, a true sign that there was not a dull moment. The set was definitely a highlight of the festival.
The pair's musical approach works amazingly well. As Danilo Perez summed it up after the show: "Steve is the best, man. With many musicians, the guidelines are often too rigid, too constraining. With Steve, it's so great : although what we play is obviously structured, it remains totally free. It allows me to do all the things I want to play". No small compliment about Steve Lacy's music!
Throughout, the chemistry between these two brilliant improvisers created some witty music of high quality, and resulted in an inspired performance. Considering that this was only their second gig together, we have in this duo a potentially remarkable partnership.
So the question now is : when / where will their next appearance be? From the discussions held backstage with a few "Senators", it is clear that both musicians really look forward to it. Given the opportunity to hear them "live", many Lacy fans will feel the same, for sure.
"De toute évidence, affaire à suivre..."
Gilles Laheurte, 9 August 1998