Steve Lacy / Mal Waldron Duos
Stanley H. Kaplan Penthouse
Lincoln Center, New York City, 06-07 May 2000
"Duets on the Hudson Series"

IRIDIUM (Restaurant and Jazz Club)
New York City, 20-25 June 2000

CARAMOOR Jazz Festival
Katonah, NY, 05 August 2000

Do New Yorkers realize how lucky they are? In less than four months, they have been blessed with three major musical events featuring one of the most enduring collaboration in Jazz history. Steve Lacy and Mal Waldron -- both long-term "expatriates" [Lacy lives in Paris, Waldron lives in Brussels] -- played in duo at Lincoln Center in early May, at Iridium in late June and this past weekend at the Caramoor Jazz Festival.

Each time, they performed effortlessly, and their venues got better and better, culminating into a brilliant concert at Caramoor which brought the audience to a standing ovation. All in all, no small feast for those lucky enough to be present at each event.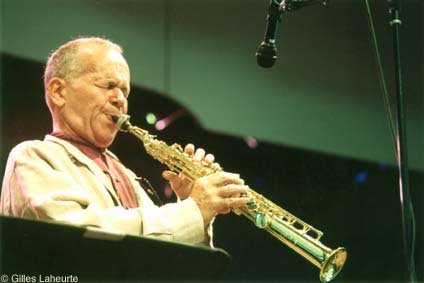 Steve Lacy / Mal Waldron duo at the Caramoor Jazz Festival - 05 August 2000
Rather intriguing is the way the two musicians have suddenly been brought back together not for one single engagement, but for a series of concerts in the city where their friendship started "back last century" (to rephrase Lacy's own quote), when their respective early musical careers faced many difficulties. Another manifestation of the many surprises brought by this millennium year?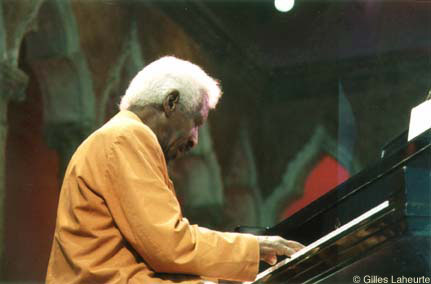 Steve Lacy / Mal Waldron duo at the Caramoor Jazz Festival - 05 August 2000
Pretty much like 1999 was the "getting back together" of Steve Lacy and Roswell Rudd, the year 2000 certainly does highlight the Lacy / Waldron reunion. Of course, these are two well-known life-long friendships… But the Lacy / Waldron association is undeniably one of the longest – still active -- in the history of the music. In this regard, the notion of long-term friendship / association is definitely a recurring "theme" in Lacy's multi-faceted musical career. Mutual respect, similar interests and a shared philosophy of life can decidedly create strong lasting bonds between human beings….
And several long-term "associates" immediately come to mind: Gil Evans (since 1952), Cecil Taylor (since 1954), Mal Waldron (since 1958), Roswell Rudd (since 1961) and Irene Aebi (since 1966), not forgetting Derek Bailey, Frederic Rzewski, Steve Potts and Masahiko Togashi, to name only a few of his numerous and lasting creative collaborations.
But the Lacy - Waldron collaboration is quite remarkably unique: here is a pair whose art truly endures, in time, and in quality (like good wine). Let's not forget that Mal turns 74 in August, Steve turned 66 in July.... Started in 1958 with the much-praised album, Reflections, their 42-year "association" is one of the most empathic one in Jazz, even if their productive output has been fairly irregular over the years, as the following chronological selection of some key recordings demonstrates [Note: you can find these albums - and more with the interactive discography]:
Reflections

, their first major album (October 1958, with Elvin Jones and Buell Neidlinger), pioneering the music of Monk;



Journey Without End

, (in quartet on Japanese Victor, 1971), its title serving almost as a prediction that their musical partnership and personal friendship would be so long lasting and remain so alive and creative;



Mal Waldron with the Steve Lacy Quintet

, (on America, 1972), one of the first LPs featuring both Steve Potts and Irene Aebi;



Hard Talk

,

One Upmanship

, and

Moods

(on Enja, respectively 1974, 1977, and 1978), in quintet and sextet;



Live at Dreher, Paris 1981

, an important duo session nicely reissued by Hat Art in 1996 as Round Midnight and The Peak (featuring the music of Monk, Waldron and Lacy);


the essential

Sempre Amore

, (in duo, on Soul Note, 1986), a very intimate and ethereal tribute to the music of Duke Ellington and Billy Strayhorn;



The super quartet at Sweet Basil

, (on Evidence, 1987), with Reggie Workman / Eddie Moore;



Hot House

, in duo, (on Novus, 1990);



I Remember Thelonious

, a duo concert recorded live in Milan (on Nel Jazz, 1992), featuring a quietly confident pair in a brilliant (mostly) Monk program;



Communiqué

(on Soul Note, 1994), in duo.

A listing of the tunes included on these recordings would confirm that both artists have been more than inspired / influenced by Thelonious Monk, Herbie Nichols, Duke Ellington and Billy Strayhorn. But they also love to play tributes to others, notably to Charles Mingus, because, quote: "he was such a beautiful piano player". Yet, despite their indebtedness to these great composers, they consistently demonstrate a partnership and an ownership of the tunes they choose to play, even tunes not of their own. This "ownership" transpires quite openly in their duo-performances, the format being ideal to offer a lot of individual freedom for self-expression, stimulated by the other "associate". In their case -- as time has clearly fostered a deep musical alliance between their minds -- the resulting inspiration and stimulation bring out a level of intense empathy revealed through some common traits in their approach to playing, in particular:

* for Mal, the extended repetition of a few notes / chords, as if time was suspended, floating over subtle chords progressions;
* for Steve, the repetition of phrases, with their iterative explorations and variations, often leading to the kind of familiar wild and witty expressions so much part of his trademark.

About trademarks, both musicians have their unique "sound", recognizable after just a few notes or a few bars. However, despite their frequent use of repetition, neither ever uses musical cliches, as they both demonstrate fundamental respect for tonal integrity, and always show absolute fidelity to the composition.

Among other common traits, one can also say that they both truly "write" music as they improvise, demonstrating consistently a great respect for melody. Also, they show great care and flair in selecting pieces that work well between soprano and piano only. These artists truly deeply know and appreciate each other…

Listening again to some of their duo releases, and reflecting on their recent three events in New York, the word "unhurried" relentlessly comes back to mind, as a sort of key word that can fairly accurately describe the way they play. They are both analytical melodists, extracting all they can from notes or from phrases, before going to the next source of exploration. To this writer, there is something paradoxically quietly soothing and exciting in their interplay.


Gilles Laheurte, August 2000