Steve Lacy / Mal Waldron Duos
But let's go to the events, which, interestingly, took place in very different environments:
- in May: the rather well-to-do / plush Lincoln Center "regular" music crowd (subscribers and non-subscribers alike),
- in June: the Lincoln Center mostly "out-on-the-town-to-have-a-good-time tourist crowd" (and more especially so during the annual NYC Jazz Festival),
- in August: the kind of "summer crowd", hungry for something interesting / unusual, and for a good deal.
May: The Stanley H. Kaplan Penthouse
On two consecutive nights, the duo opened the concluding Duet Series (followed after a brief intermission by Misha Mengelberg/piano and Han Bennink/drums). The Penthouse is a comfortable space with huge windows offering spectacular views of the West Side's skyline and sunsets. The final evening was all the more electrifying as a far-off but violent thunderstorm brought sparks to the stage's background, the lightning bringing an added "natural" beauty to the performance, a delightful music full of finely woven interplay complicity.
The music was quiet, lyrical, pretty much in the same spirit as the album "Sempre Amore". Very delicate music, with not a single note too many. Unquestionably, the highlights were two Mal Waldron compositions: "Snake Out" (Saturday night's closing tune), and "What It Is" (Sunday's fourth tune), both superb pieces which showed real creative strength emerging from simple riffs.
June: Iridium club
Well, what can be said about the corny décor, the arrogant attitude, and the technical deficiencies of the club? Alas, not much has changed since Lacy's 1999 engagement with Roswell Rudd and the quartet…. This time, Lacy had to request that the noisy A/C be turned-off for an entire set as it was blowing freezing cold air right on his head and his soprano… And let's not even talk about all other nightly frustrations…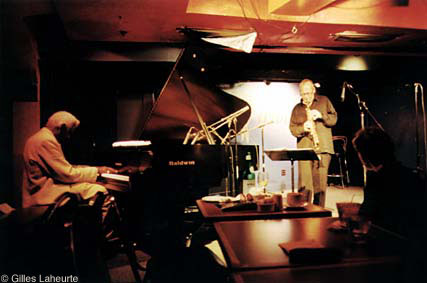 Steve Lacy / Mal Waldron duo at the Iridium - 20-25 June 2000
It was very tender and lovely music, sober, full of subtle inventions; delicate and clever, meditative, languorous, quite dreamy at times, very accessible to all ears. It featured very beautiful, carefully constructed lines.
Most musicians agree that the slower the music is played, the more difficult it is to play well. They did play well. The duo's "unhurried" interplay was thus all the more enjoyable, a bit like savoring each drop of a vintage Cognac…
Waldron generally caressed the keyboard with great sense of harmony, at times in a sequence a bit too predictable in its ascending and descending patterns, and in his waves of arpeggios. Nevertheless, he knew when to bring a welcome contrast with surges of chords of atonal quality (the several versions of "Blinks" were some of the most unusual renditions of Lacy's tune). He also started a few solos with a small spark, making it grow into sonic explosion / harmonic dissonance, or creating a kind of tidal wave crescendo of pentatonic chords which slowly dissipated and faded away, bringing at times to the music ("What it is" in particular) a very impressionistic flavor.
Lacy had numerous "belles envolées" way up in the sky, full of twisted phrases with smart turns ("A Monkish Witticism" was admirably quirky, reminiscent of Kodaly's "Háry János" suite). He smartly demonstrated how to surprise and break the dreamy pace with energetic and witty warped / distorted notes, harmonics and growls, but was in contrast simply magnificent playing very slow, pensively and quite lyrically ("I'll Keep loving You" in particular). Consistently, Lacy's playing in the low register had a strong velvety smooth tone, sometimes bringing thoughts of what Ben Webster might have sounded like on the soprano!
When the gig was over, the facetious question: "Will there be a new composition entitled ... "I'll Keep Loving... Iridium?" brought an amused smile on the musicians' faces…
August: CARAMOOR
What an amazing day… What a great program, for which Jim Luce (the Festival's producer) is to be commended. Besides the Lacy / Waldron duo, the afternoon session included the Cuban flavor of Hilton Ruiz quartet featuring Chris Potter, the sizzling performance of Sam Rivers (aged 77, in trio with Doug Mathews and Anthony Cole), and the smart music of the Paul Motian/ Bill Frisell/ Joe Lovano trio. The evening session featured James Moody and friends for a much less adventurous audience… Seven hours of music for 40 dollars, with the opportunity to bring your own food / drinks for a memorable picnic on the lovely wooded Caramoor grounds… Definitely a bargain and a best buy!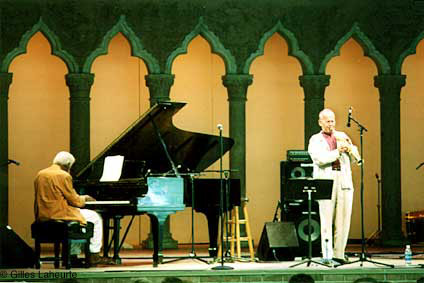 Steve Lacy / Mal Waldron duo at the Caramoor Jazz Festival - 05 August 2000
The music of the duo flowed with grace and energy. Both musicians were greatly inspired, Lacy being blessed that day with a particularly good reed, which let him fly with seemingly nonchalant ease all over the low and altissimo registers of the soprano. It was as if the two musicians had found enhanced inspiration from such lovely environment and from the positive energy of an enthusiastic crowd. Or maybe was it the changing hues of the lighting (which turned from blue to orange to purple, etc) that triggered an especially serene mood on the stage?
To several "Senators" having attended all three events since May, the performance at Caramoor was the culmination of their engagements. The highlights were Lacy's solo on "Longing", one of the most profoundly poetic improvisation on the tune heard to date, and Waldron's long powerful solo excursion in the final piece "Snake Out", as if he did not want the concert to end… As if he wanted to continue right there that musical "Journey without end" started with Lacy some forty years ago...
After such brilliant reunion, one can only wish for many more years of their duo playing.



Gilles Laheurte, August 2000