Steve Lacy Trio
11 April 1999
Knitting Factory, New York City
Since he left for Europe in the mid-60's, each of Steve Lacy's not-so-frequent New York appearances has always been a special treat to his hometown fans, eager to hear what new "findings" he has come up with. His last previous appearance here, which took place on 09 November 1998, also at the Knitting Factory, was an awesome solo performance, for which regrettably no review is available. To some, the first set was the more intense ; others rave about the Monk medley "tour de force" of the second set ; all agree that the music was mesmerizing, and there are many who wish that the Knitting Factory would seriously consider releasing the solo improvisations played that evening.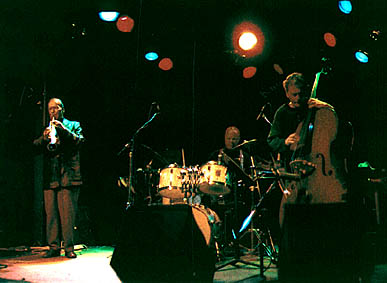 Steve Lacy Trio at the Knitting Factory - Photo (c) Gilles Laheurte
Last night, " Le soprano suprême" (to quote French writer Marc-Edouard Nabe - Zigzags, 1986) was back in town. Another all-too-rare appearance, this time in trio -- THE GREAT STEVE LACY TRIO -- which was on its 1999 North American Tour, from 16 March until mid-April, with a performance in a different city (almost) every night. Irrefutably, a band working at its peak.
Unsurprisingly, after hearing the two sets, there are many who now also wish that the Factory would put the music in a nice 2 CD package. Only time will tell...
From bits of conversations overheard, awareness of the "Concert Schedule" easily accessible on the web / internet, helped people interested in Mr. Lacy's venue to plan their weekend judiciously. Thus, computer technology is what compensated for the Knitting Factory's absence of effort - once again - to adequately publicize the Sunday night event. This time, at least, the name "Lacy" was spelled correctly on the Bulletin board. But like last time, curiously enough, it was also a rather humid / misty / sort of nasty evening. Yet, this did not deter fans from flocking down to Leonard Street : as early as 7 p.m., the entry hall of the Factory was quite busy, much to the frustration of the house "gorilla" on duty who, like a dedicated sheep dog, was hopelessly trying to keep the undisciplined crowd against the entrance's side wall.
The trio arrived rather late (at about 7:40 pm), being severely delayed in heavy traffic on its way from Philadelphia. There was hardly any time for warming-up, as the first set started (almost) right at 8 p.m., which was unusual for the Knit's capricious adherence to scheduled show times [*]. John Betsch and Jean-Jacques Avenel showed some signs of physical fatigue, while Avenel's bass showed extreme signs of air travel abuse, with some 20 feet of grey duct tape holding the badly crushed bass together, but, amazingly, it sounded just fine! They readily admitted that the exhausting travelling schedule had had its toll on them, yet playing every night was "rejuvenating and even relaxing"! Mr. Lacy, although the oldest of the three, showed in contrast no such signs. Quite the contrary, he looked stimulated to perform to the Knit's fully packed "Main Space", his quietly radiant strength being felt in his commanding presence on stage and in his playing, which was magnificent as always.
As could reasonably be expected, all the tunes played were Thelonious Monk's or Mr. Lacy's own compositions:
First set: 8 p.m.
Monk's Dream (Monk)

The Bath

The Rent

Pannonica (Monk)

The Door

Blinks
Second set: 10:00 p.m.
Shuffle Boil (Monk)

The Holy La

Traces

I Do Not Believe

Esteem

Bye-Ya (Monk)

The Whammies (encore)
Each tune generally followed the basic structure: exposition of the theme, improvisations either by SL or JJA or JB or combined, and return to the theme, which gave ample room for the musicians to express themselves together or singly, Avenel's wonderful bass (despite its rather sad condition) being featured quite prominently. It seems superfluous to go into the details of each tune, the music played being unanswerable. Yet, two of the tunes deserve being mentioned / singled out, as they had not been played much to American audiences by the trio during the preceding Tours: Pannonica was a jewel, paradoxally dreamingly poetic and fiercely incandescent ; The Whammies was pure fireworks, sparkling and blinding, an energetic blend of tension and release, a brilliant way to unequivocally close-up the evening.
Mr. Lacy's music -- by letting it be itself, never forcing it -- seems to become more and more intense, more and more "émouvante", almost "bouleversante" (for those who don't understand French, read : "poignant"). His sound is full and broad, pure and complex, unique, the best sound of what a soprano saxophone can bring out of its metallic conical section. This Sunday night, Mr. Lacy was blessed with a particularly "good" reed (further enhanced by the humid weather?), which allowed him to stroll seemingly effortlessly through the entire spectrum of the four and a half octaves which he has made his own universe and trademark.
There have been quite a few great Steve Lacy trios since 1965 (featuring bass and drums), each with its own special blend of empathy : first with Kent Carter & Aldo Romano / then Andrea Centazzo / Oliver Johnson / and a few gigs with Masahiko Togashi (documented on some rare Japanese LPs) ; then briefly with Ronnie Boykins & Dennis Charles (Capers, on Hat Hut) ; and since the early 80's, Jean-Jacques Avenel & Oliver Johnson, with a few more noticeable side gigs with Masahiko Togashi again (Voices, on NEC Avenue). But, unquestionably, something truly special happens everytime the current trio performs [**]: the closeness resulting from some ten years of playing and thinking together is not unlike a communion. This might seem too strong a statement to some, but that's the way their interaction is perceived by others, who even dare recall the hypnotic empathy of the Bill Evans / Scott La Faro / Paul Motian trio.
Reflecting on this statement, fully aware of the group's coherent "togetherness", the comparison does not seem so far-fetched after all. Next time, observe the relentless respect and intensity that each musician feels silently while listening to the others ; watch Jean-Jacques Avenel's express his emotions to and through his warm-toned bass, listen to his lacy (no pun intended) embroideries, so totally engrossing ; watch John Betsch's meditative Zen-like sit-outs and his almost painful grimaces as he makes his drums and cymbals talk so delicately or explode so violently; experience the amazing sky high sonic explorations of Steve Lacy through his masterful command of the soprano saxophone. Like on a magic ride, let yourself be enraptured in the fascinating and inspired music of this very special trio.

Gilles Laheurte, 12 April 1999
---
Notes:
[*] Other unusual / new "things" @ the Knit and during this North American Tour : the sale of several currently available Lacy CDs, and YES, nice quality Steve Lacy cotton T-shirts!!!... A much welcome initiative by Lacy's Business Manager!
[**] For CDs by the current Trio, check (if you can still find it, as it is apparently almost out of print) Bye-Ya (Freelance FRL-CD025), and The Rent (Cavity Search CD-CSR44), to be released in the next few weeks. The other Freelance session recorded in early 1998 will eventually be released by OWL Records.