Who's Steve Lacy?
Steve Lacy at home in Paris
Photo © Vincent Lainé
A "combination orator, singer, dancer, diplomat, poet, dialectician, mathematician, athlete, entertainer, educator, student, comedian, artist, seducer and general all around good fellow
Steve Lacy, one of the greatest soprano saxophonists of all time and a New England Conservatory faculty member since fall 2002, died Friday [June 4th, 2004] at New England Baptist Hospital. The jazz master who once defined his profession as "combination orator, singer, dancer, diplomat, poet, dialectician, mathematician, athlete, entertainer, educator, student, comedian, artist, seducer and general all around good fellow" was 69. He leaves his wife and collaborator, the Swiss singer Irene Aebi.

Born Steven Norman Lackritz in New York City, Lacy was the first avant garde jazz musician to make a specialty of the soprano saxophone—an instrument that had become almost completely neglected during the Bop era. Indeed, he is credited with single-handedly bringing the instrument back from obscurity into modern music of all types. He regularly received awards from DownBeat Magazine as the premier soprano saxophonist and in 1992 received a MacArthur Foundation "genius" grant. In 2002, he was made a Commandeur de l'Ordre des Arts et des Lettres by the French government. A prolific recording artist, Lacy is represented on many labels including Universal, Senators, RCA, Verve, Label Bleu, Greats of Jazz, EMI, CBS/Columbia, and Denon.

Throughout his career, Lacy was widely admired for the beauty and purity of his tone, for his incisive melodic sense, for keeping his music uncompromising and fresh, and for his eagerness to play with a wide variety of musicians while retaining long-term musical relationships. For example, since 1998, he performed often with Panamanian pianist and NEC faculty member Danilo Perez, but he also played regularly with Mal Waldron, a pianist he had worked with since the fifties. He was esteemed for his productivity, and for the consistently high quality of his art. As a teacher, a role he took on in the last two years of his life, he was revered for his intense focus and generosity.

During the latter part of his career, Lacy made his home in Paris for 33 years, but returned to the United States in 2002 to begin his first teaching job at NEC. He was prominently featured in the concerts celebrating the centennial of NEC's Jordan Hall in October 2003, kicking off the festivities in a Best of Jazz performance that featured other Conservatory jazz greats like Ran Blake, George Russell, Bob Brookmeyer, and alumnus Cecil Taylor.

Lacy got his start as a sideman in the early fifties playing in Manhattan's Dixieland revival scene. He also worked with some Duke Ellington players including cornetist Rex Stewart who christened him "Lacy." Although he initially doubled on clarinet and soprano sax, he soon dropped the former instrument and found his distinctive voice with the saxophone. It was the NEC-trained Cecil Taylor who set Lacy on a new course and introduced him to Thelonious Monk—who, along with Duke Ellington, would remain the most important influence in his life. "Playing with Cecil Taylor immediately put me into the offensive mode" (of music-making), Lacy recalled in his book Findings: My Experience with the Soprano Saxophone. "This was the avant-tout garde; we were an attack quartet (sometimes quintet or trio), playing original, dangerously threatening music that most people were offended by…."

Lacy recorded with Gil Evans in 1957 and continued to work with him intermittently up through the 1980s. In 1958, he and pianist Waldron recorded Reflections: Steve Lacy Plays the Music of Thelonious Monk, which led to an invitation to join Monk's quintet for four months in 1960. After that immersion experience, he created a quartet with trombonist Roswell Rudd that dedicated itself exclusively to Monk's music. He was still playing Monk as recently as last winter when he introduced a new quintet at Manhattan's Iridium. Monksieland, comprised of trumpeter Dave Douglas, Rudd, and Lacy's longtime Paris rhythm section, bassist Jean-Jacques Avenel and drummer John Betsch, played Monk with the freedom and contrapuntal interplay of Dixieland jazz.

In 1965, Lacy began performing in Europe where he found particularly appreciative audiences in Italy and France. He met his wife in Rome in 1966 and by the late sixties, they had settled down in Paris. During the enormously fertile decades that followed, he created a quintet that could expand or contract from a duo or trio on up to a big band. He began collaborations with dancers (Merce Cunningham in particular), artists and actors. He also started working with poets like Brion Gysin, composing musical settings of their poems.

Irene Aebi exerted a profound influence on Lacy's artistry. For the woman he called "his muse," he wrote his first composition, The Way (1967), based on the words of Chinese philosopher Lao-Tzu. He continued to be inspired by his wife's voice and wrote works for her based on poetry by Anna Akhmatova, Mary Frazee, Anne Waldman, and Judith Malina. He wrote an opera, The Cry , with Bengali poet Taslima Nasreen. And, over a period of many years, he composed The Beat Suite, a jazz song cycle based on poetry by Jack Kerouac, Allen Ginsburg, Robert Creeley, and other beat poets. That work had its official world premiere in 2003 and has been recorded on a Universal CD. As recently as this spring, Lacy and his wife were performing his settings of Robert Creeley poems and excerpts from the Beat Suite at MIT and Boston's Institute of Contemporary Art.

At NEC, 36 students, both graduate and undergraduate, worked directly with Lacy and he affected many others through his active participation in the musical community. In his teaching, he was concerned with helping students become complete artists. For example, he might say of a young player: "He's got imagination, but he needs to develop his taste a lot more—opera and poetry and literature and dance. He really needs to broaden his base." At NEC, he felt students could get that broadening. "That's what I like about this school," he said in an interview last year. "…One can cross the hall and it's not such rigid departments really. Anybody could study improvisation or Indian music or symphonic construction or whatever..."

About Lacy, NEC President Daniel Steiner said: "He was an extraordinary artist, the kind of person who appears only a few times in each generation of musicians. His presence at the Conservatory affected not simply the jazz program but the overall musical life of NEC."

Remarks by Ken Schaphorst, Chair, Jazz Studies and Improvisation:

"The NEC community is devastated by this great loss. I can't think of another musician who has been involved in so many different chapters in the history of jazz, from Dixieland to Free Jazz, and everything in between. Steve has brought his unique combination of open-mindedness, humor, intelligence, rigor and artistry to his teaching at NEC over the last two years. And everyone who has come into contact with him has been transformed by his wisdom and musicianship. We will miss him."

Remarks by Ran Blake, head of NEC's Contemporary Improvisation department:

"With the exception of Sidney Bechet and John Coltrane, no other musician has brought such a personal sound to the soprano saxophone and few other musicians have tapped into the unexplored repertoire of Thelonious Monk ."

Remarks by Danilo Perez, NEC Faculty, Jazz Pianist, and Lacy collaborator:

"Steve Lacy showed us that being a jazz musician is the work of a lifetime.

His compositions and improvisations are full of wisdom and life. He taught us the power of words through his music. Hearing his soprano playing was a life changing experience, because he approached his sound, improvisation and technique as if he believed it was a test of man's sincerity.

As a friend he was a very encouraging, caring and generous man with a great sense of humor. As a teacher he was a great educator who inspired all of us inside and outside the classroom, with the genius of his musical phrasing and his brilliant remarks.

Last year while playing a duo concert in New York, he took me to an exhibition of a great Chinese painter. His detailed comments about the paintings offered a great lesson in color subtlety and form. I found myself contemplating his words of wisdom all afternoon. That night after the very inspired concert we played he said; "Danilo we were painting tonight."

He was very kind to me and to many people who knew him. As he would say the music and the artist become one as we get older.

Steve, thanks for inspiring and sharing your gifts with the world. Your great musical legacy will live in our hearts and minds forever.

God bless Steve and his dear Irene."
Reprinted from www.newenglandconservatory.edu/newsHightlights/2004/steve_lacy.html
Teacher at the New England Conservatory of Music
"Boston, MA (July 11, 2001) -- New England Conservatory is pleased to announce the appointment of legendary soprano saxophonist Steve Lacy to the Jazz Studies and Improvisation Department. His appointment is effective September 2002." (read complete press release). Mr Lacy kept his activity at a high level till the last months of his life.

Other members of the Jazz Studies and Improvisation faculty

New England Conservatory of Music website: www.newenglandconservatory.edu
From September 2002 until his passing in June 2004, Steve Lacy taught at the New England Conservatory of Music of Boston, in the Jazz Studies and Improvisation Department.
If you could not study with him at the NEC or attend one of his many master-classes, you nevertheless can benefit from the content of his own book Findings and its companion two CDs. Since its publication in 1994, students and music teachers have found with Findings a rare set of pedagogic tools designed by one of the greatest jazz musicians and composers.
These tools will enable teachers and their students to dig the technique of this difficult instrument, the art of improvisation, and the art of composition. Studying his available scores will be complemented with the ones that Senators will gradually make available, if possible.
Monk's demarche and preoccupations
Thelonious Monk & S. Lacy
Photo X

In a 1984 interview for Coda, Steve Lacy was asked about the relevance of playing Monk's music nowadays and he said: "While you're worrying about that music, there's a musician right now who's in the same place that Monk was in. In other words, with a pristine thing that's fantastic and that nobody is paying attention to."

Although we would never suspect Lacy of thinking about himself when answering this question, we believe nobody fits this profile better than him. But the parallel can be pushed even further. In the past thirty years, Steve Lacy has accumulated an impressive catalog of songs. Not only does Lacy follow Monk in his demarche and preoccupations, but his music also shares many similarities. It is striking how close Monk's and Lacy's musics are in both their spirit and form, and yet so different.

But Lacy did early what we expect from a true artist: he got inspiration from the masters of the past, and used it to build his own language. Lacy's universe is not for everybody and that might explain why so few dare touch it. It might be Lacy's lot that his oeuvre inspires more awe than followers. But wasn't it the case of Monk forty years ago when a young Lacy was discovering him?
Pierre Coussalt - Reprinted from Actuality CD liner notes (1995)
It's official: Lacy's a genius
Steve Lacy has become a MacArthur Fellow, the Chicago-based MacArthur Foundation announced recently. The only musician named in his year's roster of 33 "genius grant" recipients. Other jazz musicians who have been named MacArthur Fellows include Max Roach. Ran Blake, and George Russell.
In announcing Lacy's fellowship, the MacArthur Foundation cited his mastery of the soprano saxophone, his distinctive compositional style, with special mention of his prolific output of art songs inspired by literary sources, and recent work with Kabuki dancers and traditional Indian musicians. "It's a very big - extremely big shock." commented Lacy."The ramifications haven't sunk in, really. I feel more free, though. I don't have to worry about the things that I've always had to worry about, so I can worry about some new stuff."
Reprinted from Down Beat (september 1992)
Commandeur de l'Ordre des Arts et des Lettres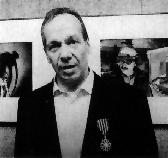 Steve Lacy has been appointed "Chevalier de l'Ordre des Arts et des Lettres" on February 12, 1989 (the ceremony took place in Douai). He has acceded to the grade of "Commandeur" on February 20, 2002. The decoration was given to him by Brigitte Lefèvre, Dance Directress at the Opera of Paris on June 10, 2002 at the Sunside.
Photographie de Gérard Rouy
Blinks
Courtesy of Franck Médioni
Lee Konitz
"For as long as I can remember, Steve Lacy has represented the sound of the soprano saxophone. Influenced by Sydney Bechet, he went on to influence every soprano player thereafter.
His music has always been very personal (and that still is the name of the game!) and, always hooking for new ways to put things together.
I haven't heard all of his work; but, a few years ago I heard him perform a piece of his with the Kronos string quartet, which was very impressive.
I think it's great when real artists are acknowledged by the people in the know (Mac Arthur Fundation, etc.).
Let's hope that Steve will be gracing us for years to come."
Joe Lovano
"Steve Lacy is one of the most consistently creative improvisors in jazz, a true master of music, as a saxophonist he sends me to the woodshed everytime I hear him."
François Cotinaud
"Lacy va à l'encontre d'un grand nombre de saxophonistes bavards en accordant à chaque note jouée, à l'instar de Monk, pleine intensité et émotion. Il dispose d'une connaissance inouïe de ce qu'on appelle étrangement "l'attaque" au saxophone, qui n'est autre que l'émission première du son, et qui va de l'extrême douceur à l'âpreté incisive.
Ses compositions, souvent naives, comme on le dirait de la peinture, évoquent un univers riche, serein et apaisant. Son travail avec Shiro Daimon, imprégné de Kabuki, son intérêt pour la culture d'inspiration bouddhique ou l'art contemporain, la qualité du silence contenue dans sa musique, m'inspirent respect et sympathie."