Irene Aebi / Steve Lacy duo: The Outpost
Albuquerque - March 19, 2000
Hello,
We wanted to let you know how much we enjoy your Steve Lacy website. His two-night gig here last month, which we found out about by visiting your site, was wonderful. We have enjoyed his annual visits to Albuquerque for several years, but it was a special treat to hear Lacy, Rudd, Aebi, Avenel and Betch together.
Lacy and Aebi did two songs from Futurities, as a duet with just voice and sax, and it was quite moving. I think each member of the group was inspired by being on stage with the others. Lacy's solos were even more adventurous than usual. We are very lucky in Albuquerque to have The Outpost, a small space that only seats about 100 people, so we are able to see great performers like Lacy and company in a very intimate setting.
We noticed that you invite contributions to your Gallery, so we are sending a couple of pictures, separately, in two e-mails that will follow this one. They were taken without flash, so are a bit dark and not very focused, so might not be useful to you at all. But if you like them, please use them any way you like.
Thank you,
Jeffrey Lee
Lawrence Austin (jalla@swcp.com)
Albuquerque, NM USA - April 10, 2000
---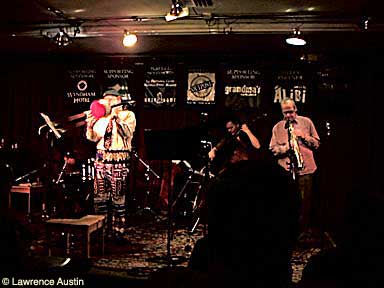 Roswell Rudd, Jean-Jacques Avenel, Steve Lacy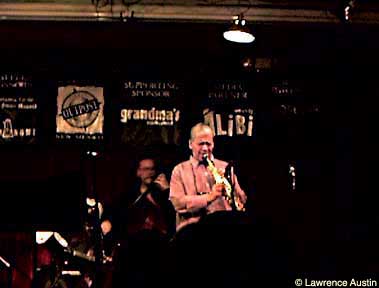 Jean-Jacques Avenel, Steve Lacy