Steve Lacy + The Engine Room Trio: Roger Frampton / Steve Elphick / John Pochée
SYDNEY (Australia), 05 October 1999
The Basement
"Dear Senators, here is my review of the gig at the Basement. I compiled the review from notes I took during the performance."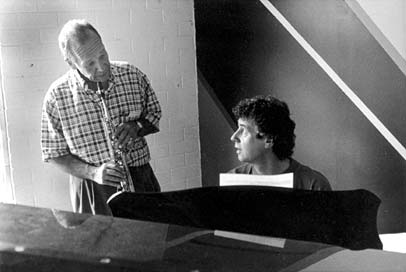 Steve Lacy & Roger Frampton at rehearsal
I saw Steve Lacy play with The Engine Room at the Basement on Tuesday night, October 5, 1999.
The program was a mix of Monk, Ellington and Lacy tunes; familiar in that Lacy has spent many years playing, refining and playing with Monk's materiel; familiar in that the stories within and behind Lacy's compositions reflect his musical life's interests; familiar in that Lacy has left evidence of his own compositions, realised in many different contexts and many different ways, in his huge discography.
The first set opened with Monk's Bemsha Swing. Lacy learned this tune in the '50s and tonight it was a welcome opener; something of a loosener for The Engine Room, Roger Frampton (piano), Steve Elphick (double bass) and John Pochée (drums). This Australian trio have a whole lot of experience with Monk's music and their swing got the party started. The Hoot definitely inspired Frampton into a fantastic solo. The Rent initially caught the Engine Room off guard while stating the theme, unfamiliar with it's shifting rhythms, but that's only a minor issue, given that they received a briefing on the material at sound check. John Pochée cast himself in the role of land lord, knocking on the door with his bare fists, demanding the rent from Lacy, Frampton and Elphick. Longing evoked Spanish flavours from Frampton. At times throughout the night, I thought The Engine Room couldn't wait to get their hands around the tune; this tune was one of those. It allowed them to show us their cohesion in developing drive and dynamics, hallmarks of great rhythm sections. Monk's Off Minor finished off the first set, Lacy's solo showing what can be got from playing with simple ideas, turning them round and taking them apart.
Lacy's tune Flakes, dedicated to Mark Rothko and an evocation of ice-skating, opened the second set. Ice, snow and such cold climate activities as ice-skating don't get much play here in Australia. The most familiar acquaintance with ice, for me, is the sudden crazing and explosion of ice cubes dropped into a drink on a hot summer afternoon. Perhaps that's the image Roger Frampton had when crafting his solo. Ellington's In a mellow tone set the scene for a Lacy tune, Esteem, a meditation on Johnny Hodges. Sometimes there is wonder and beauty in hearing familiar tunes interpreted and realised by a group in a way that is so unfamiliar. That definitely happened on this number. The trio pushed Lacy's composition into a real swing, definitely a memorable realisation! A wet reed or too much moisture prevented Lacy from delivering the multiple-octave-stratospheric intro to Esteem. Epistrophy, Monk's theme tune, started out with a cracking pace and rhythmic accompaniment from The Engine Room, to which Lacy responded with all octaves of the soprano. Blinks came and went too fast. Roger Frampton treated us to a wild ride through discordant harmonies. For me, it was all over too soon.
The night was pretty good, though there were some great moments, and rough moments. I believe that the Basement recorded the performance. It may turn out to become another "live at" disk.
Mark Cameron, 11 October 1999

Note: Roger Frampton died at the beginning of this year (2000). Steve Lacy has dedicated a composition to him, called Round About Midnight, a song based on a poem by Bob Kaufman ["Golden Sardine", 1967 - City Lights Books]. The composition was written on August 20, 2000 at Vancouver and September 10, 2000 in Paris.