Steve Lacy Trio
29 May 1998
Strasbourg, Salle Pôle Sud (Meinau)
Steve Lacy returned to Strasbourg for two days after a hiatus of several years. His venue consisted of two very different events: a Master-class and a concert with his current Trio.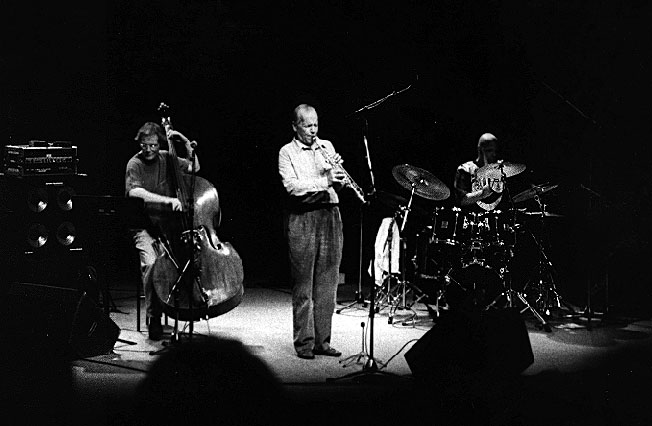 The Steve Lacy Trio - Photo © Gilles Laheurte
For sure, the concert was sold out, as I got five of the last seven available tickets on Wednesday 27 May at the Strasbourg FNAC. And as could be expected, the Salle Pôle Sud was full.
The music of this wonderful Trio is now like a well-oiled machine (Steve Lacy, ss; Jean-Jacques Avenel, bass and John Betsch, drums) as it extensively toured North America in the fall of 1997. It is documented on the excellent album Bye-Ya (Freelance CD-025) and will be again in a session recorded in Paris in January 1998 (to be released in late 1998 also on the "Freelance" label).
The music was of high quality, precise, lyrical, swinging and thoughtfully structured, often restrained, rather introspective and almost sad, if not somber. Maybe this resulted from the fact that most of the tunes were dedicated to departed friends. Shuffle Boil was the only composition by Thelonious Monk played that evening: maybe the Thelonious Monk Tentet European Tour of March 1998 was too recent, still, in Mr. Lacy's mind? or maybe the recent proliferation of "Monk's musical tributes", "dedications", as well as books/ essays on his life dictated a certain restraint? or maybe the first part of the concert by a singer/ guitar duo having featured several Monk tunes was perceived by Mr. Lacy as enough Monk for the day?
Anyway, all other pieces played by the Trio were the direct expression of Mr. Lacy's own musical universe, which included two new compositions: The Holy La, and Traces, another "dark" piece dedicated to the late bassist Alby Cullaz.
A total of eleven tunes were played in the following order: Shuffle Boil, The Bath, The Holy La, The Wane, The Hoot, Traces, Blinks, I Do Not Believe, Revenue, Bookioni, and Bone (from the "Tao suite") as the Encore piece.
The often-used saying: "The bass is the base", could not have been more appropriate that night as it clearly was the fulcrum of the music, Mr. Avenel taking voluminous and true solos (=alone) during several pieces (The Bath, The Wane), providing the real pulse/drive to keep the music going. He is unquestionably a real virtuoso on the instrument, making it appear so deceptively simple to play...
Technically, Mr. Lacy had a troublesome reed, which required several backstage trips (after he completed his solos) to adjust it/ trim it/ fix it or change it : we'll never know. Yet, his tone and sense of pitch never failed: who else can hit the soprano's altissimo register with such flawless purity at every attempt? Melodically and lyrically -- except for "Blinks" which was the wildest piece of the evening with falsettos, grunts and high jumps to stratospheric notes -- his improvisations followed the same "mood" as his recent recordings (especially those in solo and trio settings). They do seem to become more and more and more "minimalists" in their careful and introspective use of notes, often both playful and pensive, and always so basically "human" in the deep inner feelings they express.
Mr. Betsch's musical contribution was particularly restrained and very attentive to his partners', pretty much as a painter who does not want to soak the canvas with too much paint... He only let go during his two solos in "I Do Not Believe" and "Bookioni" (this last tune inspired by Lacy's previous drummer Oliver Johnson, which seems to have now become "the" current Trio's feature piece for a drum solo).
As exciting as it was, the event was unfortunately marred by an excruciatingly stuffy concert hall resulting from a very inefficient (non-existent?) ventilation system: spectators and musicians alike unduly suffered throughout what could have been a much more (physically) enjoyable evening...
The music was hot. The hall didn't need to be.

Gilles Laheurte, 02 June 1998