Steve Lacy Trio USA tour
Lacy Cubed: Three Nights in The Bay Area
"Here are some notes and reflections of my three nights with Steve Lacy in the Bay Area."
Reported by Shawn Lahr during the USA tour of the Steve Lacy Trio
November 15, 1997
OACKLAND (CA): Oakland Museum of Art
Oakland is a friendly town. I went to a brew pup and enjoyed a pint before the show and walked back to the theater with my excitement mounting. I felt open to anything, hoping for something familiar and something new. I've only been in the right part of the world to hear Steve Lacy live once before and that was the Eddie Moore Jazz Fest. also in Oakland when he played with Mal Waldron, magnificent!
The James Moore theater is a beautiful and intimate theater. It is wood paneled and seats maybe a couple hundred at best - somebody said 350, I just can't see that - but a nice place for a jazz concert. It was packed. The sound was exceptional. Steve didn't even play into the mike much. His horn sound was full , his tone rich and he and Jean-Jacques and John got into the show. The energy and support from the crowd was phenomenal. Lot's of applause for the solos and great exchanges by the musicians. They were having fun and seemingly surprising each other with different accents of phrases. Steve played into the mike for the light reedy trills but mostly stood back from the mike and it gave the sound a naturalness that was superb. He was overblowing a lot this night, really screaming on Clichés... Incredible!"

Dave Kaufman attented this concert too and he reviewed it for Perfect Sound Forever e-zine.
November 16, 1997
HALF MOON BAY (CA): Bach Dynamite & Dancing
"The show in Half Moon Bay was strange. Musically they were tight and the performance was exceptional but different. I took a friend and we had lunch and walked and hung out on the beach for over an hour. When we got back to the club we could hear Steve and the boys warming up. We sort of hung out and when we got a chance to go in and find our seats we found a relaxed atmosphere. It was a midday show, 4:30 PM, and the Bach Dance and Dynamite Society is usually filled by 75% members. This means that the majority of the seats were reserved for the people who pay $150. a year to hear light classical or jazz. By the end of the concert it was just us 25% fans left cheering.
Before the show started I'm standing around waiting for my friend to return from the bathroom. I hear her ask "are you Steve Lacy? I'm Julie and I'm really looking forward to your show." Steve was friendly said thanks, and continued up the stairs right toward me. I am speechless...I can muster a smile. Julie quickly interjects "and I'd like you to meet my friend Shawn." I shook his hand! I said "it is nice to meet you, I'm a big fan; thank you for the great show last night". He said, "oh, you were there? I guess quite a few people from last night will be coming here today." I told him how much his song Art meant to me, how great it was to get to see the Jacob Epstein sculpture of Jacob wrestling with the angel at the Tate in London and to have his music with Melvile's poetry running in my mind. I explained how I thought this was one of the purposes of his work, to bring these different elements together. He was humble and said that it was mostly the words. That it is such a B poem. I said yes, and told him that I thought his work expresses those extremes and he said, "well I hope I can live up to that for you tonight."
Now I know my comments must of sounded pretty silly and that I probably just came off like a gushing, fawning fan--probably even wrong! but I have often thought about this possibility, this once in a lifetime chance to explain to him how important his compositions are in my life. I said my piece. Mr. Lacy was patient and polite and gracious.
The sound at the Bach Dance & Dynamite Society is fair. Jean-Jacques' bass was under emphasized/amplified and the stage is so small that Mr. Betsch was forward and large. Incidentally, during the break Mr. Betsch made a female acquaintance and disappeared. The break was long and when finally Steve and Jean-Jacques came back to the stage, there was no further intro, no one to turn off the overhead music and no John Betsch. Steve start blowing a sort of loud alarmish phrase a couple of times while Jean-Jacques began wandering about Clichés with his thumb piano. The smallish crowd began wandering back in. This club is a beach community affair and these folks were so laid back man, they didn't know that this was the chance of a lifetime, to hear the incomparable Steve Lacy Trio! It seemed like there were only half the audience left after intermission--and at least a third of the seats had been empty to begin with! So, Mr. Betsch gets in with a drink in his hand and with his female friend. She sits to his left near the bar. The second set was driven by John Betsch. He was playing to this women! Since the drums were an overwhelming presence in the music because of the diminutive stage, John Betsch seduced us all. The second set featured Clichés, to start off of course, and included Esteem, The Prayer and The Wane. After The Wane, another of my favorites, a group of older folks left. Steve and Jean-Jacques watched them go, waited for them, and either Steve or Jean-Jacques cleared his throat, like a small grumble, and they continued. In a tune I did not srecognize, kind of a latin sounding number, Steve sang in a delicate, but cool voice. Unfortunately I can't remember any of the words and do not know the tune, but it was a surprise and delight to hear him sing. They ended the set with Bookioni. As the drum solo is punctuated by less and less forceful blasts from Steve, and then kind of eases into an ending, Betsch and Avenel continued to play. Betsch was adding little flourishes, softer but prominent tonal expressions. Jean-Jacques finally asked him, "do you want to go home?" They laughed and Betsch finally closed the tune."
November 17, 1997
SANTA CRUZ (CA): Kuumbwa Jazz Center
"The next night, 11/17 was in Santa Cruz at the Kuumbwa Jazz Center. Now I have to tell you that I drove over to a bookstore in Santa Cruz over a month ago so I could be sure to get a ticket. My ticket for this show is numbered 001! The nice folks at Kuumbwa let me keep the ticket intact somehow understanding my goofy sentimentality. So, this show had the best sound. The Kuumbwa people have a fine stage and the place has a warm tone. Jean-Jacque's bass was more prominent and Steve's tone seemed even more delicately rich and had real muscle too. His solos all three nights were things of beauty. His ability to explore in a cyclical manner the nuances of the melody line, his drawing out of phrases so that each repeat has a new character, and not just by an effect of slurring or overblowing or whistling, but by the curious rearrangement of note sequence or new tone clusters...always something. I mean I heard The Bath, Clichés and Shuffle Boil three nights in a row and each time it was a fresh and rewarding experience. And this is the beautiful and powerful thing about improvisational music, and this is the reward when listening to a master, and this is what draws us fans together, to approach the sound sculpture knowing that if we pay attention we will be enriched with new and different complexities and structures...the permagrin of surprise and delight in the moment of creation!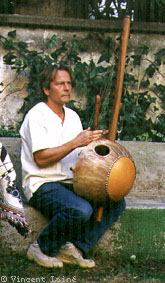 Anyway, I got to talk to Jean-Jacques. I told him how beautiful Pi-Pande and JJ's Jam were, how some friends who weren't exactly jazz fans thought the same. He thanked me and I asked him what the Kora looked like. He said he wished he could have brought it with him, but it was too big and he didn't even bring his own bass on this tour. He said the Kora was a large harp like instrument with two rows of strings, with twenty-one in all. He told me it is a beautiful instrument and that he plays it a lot. I asked him if he was going to be able to release his own cd of it, and he said that he already had, but on an obscure label. I told how great it was to get to finally hear him live and that I have always been blown away by his ability to play so melodically, like a lead instrument. That I wished I could follow the band around the country some more, but that I just didn't make that kind of money. He said that this part of the tour has been like a vacation for them because they haven't had to fly and that soon they'd be bouncing all around the country, and to Canada and back.
The Kuumbwa show featured I Do Not Believe from Vespers, and a new tune entitled In My Head--structurally similar to No Baby, I think. Jean-Jacques' bowing bass solo on The Prayer was exceptional. He can evoke the deepest cry and smoothly resolve the phrase in the highest range of his instrument. Blinks, Gospel and Longing were also featured in this show. It is powerful music, sublime and sweet, solemn and playful and explosive. I too am surprised by how little the Steve Lacy Trio tour is getting promoted.
For me, the promise of these three shows helped me get through the breakup of a seven year relationship, has rewarded me with an elation of spirit unsurpassed in my life and now I wonder what I should do--paper feels useless, colors loss hue, etc.
Thanks for indulging me here. Hope it was slightly informative and or enjoyable."
Shawn Lahr (emailed to Senators on November 21, 1997) LaRuin@aol.com
Photo © Vincent Lainé (Jean-Jacques Avenel playing kora)