Bimhuis

Stories of twenty-five years at the Bimhuis

Kevin Whitehead, with Herman te Loo & John Corbett
Bimhuis, 1999
- 17 cm x 24 cm
- 216 pages
- numerous black-and-white photographies
Introduction, by Kevin Whitehead

Chances are good that within five years, any club dedicated to jazz and new music will either a) close its doors or b) dissipate whatever good will it had earned by opening them—with few exceptions, of which the Bimhuis is one. Although the place is not much given to self congratulation, it did allow itself this book.
As soon as director Huub van Riel suggested it, a plan presented itself: Let the folks who use the Bimhuis tell the story: the local musicians and others who helped found it and witnessed its growth, the musicians from all over who've played there, writers foreign and domestic who reported on what they witnessed, participants in workshops and sessions, and the consumers of music who come to listen.We tried to cut a swath through them all, in an unsystematic way.
Did we get all the good Bimhuis stories, locate everyone we sought, get comments from everyone we approached? Yeah right.
To solicit them, we emailed and faxed more than 100 folks, and sent interviewers into the field: John Corbett in the US, and Herman te Loo (interviewing in Dutch) and me (in English) in Holland. On his own initiative Phola Momba tracked down Thebe Lipere and others, Francesco Martinelli served as impromptu Italian translator one hectic weekend, and numerous folks made helpful suggestions, more than we could act on. A few who responded were subsequently interviewed, to clarify or amplify some point they'd made. I also dipped into a few interviews conducted for my 1998 book New Dutch Swing. Those entries are dated 1995; some appear here for the first time. Most written or oral comments were then edited and/or chopped into segments, to fit some loose narrative, roughly but not religiously chronological: we aimed for a multiplicity of voices, one idea giving rise to or contradicting another, a mix of the composed and the improvised, a nod to Bimhuis's own unpredictable programming.
One editorial dilemma: how to deal with people saying nice things about the man who conceived the book, hired the editor, and has the power to hire every musician in it. Huub van Riel is the Bimhuis to a lot of people, and he gets his due, but the Bimhuis (like this book) is a product of a collective imagination, and this story has a lot of heroes.
So what you get is part congratulatory bromides, part oral history, part meditation on music-making, personal epiphanies, shaggy dog stories, horror tales and road woes. Treats include Eugene Chadbourne's three-act docudrama of improvisers at large, and excerpts from J. Bernlef's book Schiet niet op de pianist — Don't Shoot the Piano Player — appearing here for the first time in English, as translated by Herman te Loo. And of course the many striking images, for which we are deeply in debt to the several photographers who blew a couple of weekends combing through the archives, sometimes making fresh prints from old negatives.
[…]

Kevin Whitehead
[some] Excerpts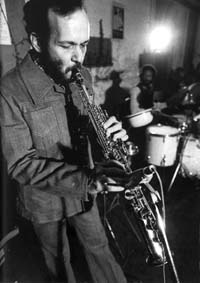 Steve Lacy - photo Pieter Boersma
Paul Termos: « The concerts that made the most impression were the ones that pointed toward a new direction in those confusing times, like a trio of Derek Bailey, Steve Lacy and Maarten Altena: completely improvised, but with great intelligence. It was definitely not high-energy free music. Han [Bennink] and Misha [Mengelberg], they played every month for awhile, that was a big formative inspiration for me. Also Lacy solo. » [page 46]
Ab Baars: « Steve Lacy was a hero of mine. Once he played a beautiful concert with Han [Bennink] and Misha [Mengelberg] at the Bimhuis, with a lot of Monk. I came early to listen to him practice, but sitting in the audience, the people were too loud and the walls too thick to hear him warming up. The only place you could hear from him was the toilet, so I locked myself in there for 10 or 15 minutes, listening to him play. » [page 77]
Mary Oliver: « I tried to interview various musicians for my [doctoral] dissertation [eventually entitled Constellations in Play: a Model of Improvisation]. Steve Lacy said that the most important book about improvisation for him was Nicolas Slonimsky's Thesaurus of Scales, and Misha Mengelberg said he employed species couterpoint to instruct students in his improvisation classes at the Sweelinck Conservatory. » [page 158]
Terry Ex: « I hardly knew about Steve Lacy. And of course he never had heard of The Ex. Nevertheless fate, of Huub [van Riel], had us performing back to back one night on the October Meeting 1991. We played first, spurred on by Greetje Bijma in gold pants and Han Bennink with a fiery red head. Downstairs in the dressing room Steve was trying to warm up. Desperately. He'd never heard anything like it. What a racket! Terrible!
I came off the stage, sweaty and completely drained, but quite pleased with our performance. Steve was sitting there, looking pale and harried, muttering: "This is demons' music!" Bullshit, I thought, he didn't even see us play, he doesn't know what he's talking about. Demon's music, that's gothic rock or heavy metal, about as far from us as you can get.
Still, our smiling faces as we'd entered the dressing room must have softened his opinion. Later, still feeling insulted, I asked him what he had meant by that. He said: "Well, you look like nice demons."
He played wery well that night, Steve did. » [page 160]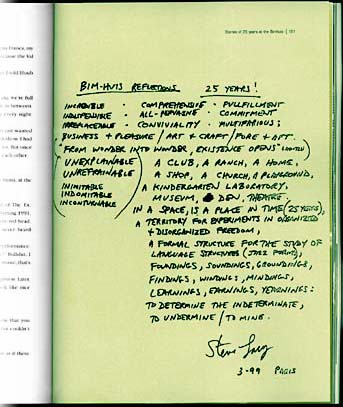 fac-simile of Steve Lacy's fax
Publisher