We start the set with

Stamps

, the ice-breaker (in honor of Mr. Miles Davis). Based on the open notes of the strings, it allows us to warm up, and you, to tune in.

Wickets is a blue tale (tail?), on the trail, to Bobby Timmons, a blues blown in be natural.

Another kind of blues, The Whammies, is our fastest moving item, built on selected licks from Fats Navarro. Once the chart is played, we get out quickly. When it is over you will have really had it.

Prospectus is an invitation to a voyage and is dedicated to McCoy Tyner. The words are by Blaise Cendrars, who used a real travel brochure, slightly modified: "Come and see our little isle/it's all the way down south/in the japanese possessions/this little country is certainly mostly unknown in Europe/it merits a bit more attention/fauna and flora have great variety/and hardly have been studied up to now/and then you'll find everywhere you look/a picturesque point of view/and in the interior/some ruins of buddhist temples/which are in their genre/pure marvels." (translated by Steve Lacy). This kind of collective improvisation is only possible when one has the "luxury" of being able to work with the same group of gifted individuals, over a long period of time. That is the real "Prospectus".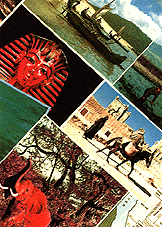 Postcard included in the LP set
The Dumps

(take 1) is a be-bop rag, à la Jelly-Roll Morton, a tough number, we're still working on it after 10 years, note the forward-looking exchanges towards the end.

The second record contains our Clichés. This piece began as an African postcard from Aline Dubois, who visited Senegal. It was done in 1 take. We were lucky enough to be able to recruit some talented young guests in the studio for the "rhythmic village". In memory of a dear friend and great musician, Joe Maka.

Take 2 of The Dumps starts out more gayly, gets into some trouble, recovers well and then at the reprise, loses it's footing and crashes to a halt. After the last groan of anguish, we make a good insert, repairing the damage but allowing the souvenir to remain.

The last tune Retreat. Thomas Gainsborough 18th century painter made this remark: "Enough of portraits!/I wish I could pack my viola di gambia/and go off to some charming village/to paint landscapes/and savour the end of my life/in tranquility/and peace." (re-translated by Steve Lacy). A little rhapsody for Bob Marley, based on a mode from the far East in tick-tock time.

Steve Lacy (liner notes - January 1983)