THE MUSIC OF STEVE LACY
"Improvisations": series of concerts dedicated to the explorations
of new sound languages (6th edition)
Este cuarteto propone recrear de una manera propia ciertas composiciones del gran maestro del saxo soprano y compositor norteamericano Steve Lacy. Sus composiciones son como haikus. Parten de motivos mínimos y austeros y reflejan el momento de una música nunca acabada, siempre en proceso de realización y mutación.

Centro Cult. Islas Malvinas, calle 19 y 50
La Plata - ARGENTINA
October 21, 2001
Walter NOAK alto saxophone Pablo RIVAS vibes Pablo LEDESMA soprano saxophone


"The concert dedicated to the music of Steve Lacy was a wonderful experience for us and audience – it was the first time people get contact with a bit of Lacy's work and the feedback was terrific – I'm very happy and thinking in spread out the music of the maestro.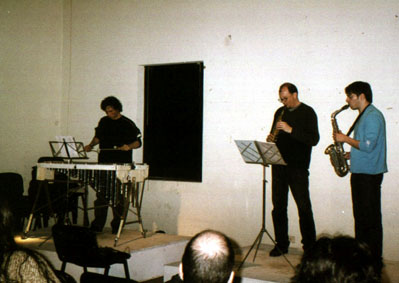 "I'm sending you some mp3 archives recorded at "the music of Steve Lacy" concert – it's just a bit with not a good sound but it's a humble example of our work.
Thanks a lot."
Auditorio "El Aleph" (Capilla) C.C.Recoleta
Buenos-Aires - ARGENTINA
May 8, 2002
Pablo Ledesma soprano saxophone Enrique Norris cornet Mono Hurtado double bass Diego Chamy drums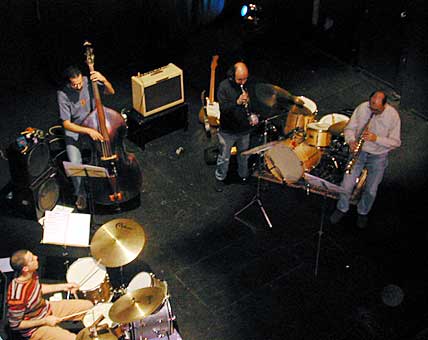 Concert chronicle "Homenaje a Steve Lacy" by César Pradines for LA NACION LINE

"La Nacion is the most important Argentine newspaper (the concert got a lot of interest). Nano Herrera, an important critic and radioman, was in the audience. He was one of the guys near Steve in his stay in Buenos Aires.

We are going to repeat the same program next wednesday 22 at "Ciudad Vieja" pub in La Plata. We are happy with the music and the event, still growing." P.L.
Contact: Pablo Ledesma (pablosledesma@sinectis.com.ar)